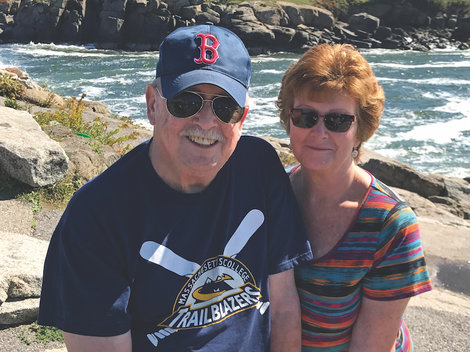 He was like that, a very giving guy. We wanted to do something to memorialize him because he touched a lot of people.
Philip LeFavor, '72, G'76
Story Series
Bridgewater Magazine
Throughout his lifetime, Michael F. Maguire, '76, G'87, was someone people knew they could count on.
As a student at what was then Bridgewater State College, he often paid the tab for friends who didn't have any money. Later in life, Mr. Maguire continued spreading goodwill in a variety of ways. He called everyone he knew who'd served in the military each Veterans Day, kept in regular touch with a wide circle of friends and was always there for anyone who needed a helping hand.
"He was like that, a very giving guy," said his longtime friend Philip LeFavor, '72, G'76. "We wanted to do something to memorialize him because he touched a lot of people."
Mr. Maguire died in December 2017, at the age of 68. Now his widow, Ginny, '76, G'02, and his legions of friends have come together to create The Muggsy Fund.
"Muggsy" was Mr. Maguire's nickname. The fund named in his honor was established to help students deal with emergencies – relatively costly and unexpected expenses, from auto repair to a new suit for a big interview.
"You never know what a student is going through," Mr. LeFavor said. "So many of them are just getting by."
The idea was born at last year's football alumni dinner, when Mr. LeFavor and others spoke to President Clark about creating a fund in honor of their friend. It was agreed that a discretionary fund to help students in case of emergencies was the best way to pay tribute to the man everyone affectionately called "Muggsy."
"He would have loved this," said Mrs. Maguire. "He was such a great guy with a great sense of humor."
Mr. Maguire grew up in Easton and was diagnosed with polio at the age of five. More hard luck arrived during his high school years when both his parents died. None of this sidelined him for long. At Oliver Ames High School (OAHS), he served as team manager for so many sports over so many seasons, he was inducted into the school's athletic hall of fame and had the most varsity letters of any alumnus.
He graduated from OAHS in 1967, and came to Bridgewater State, where, Mr. LeFavor said of his friend, "He was on the extended plan." Indeed, Mr. Maguire spent eight years on campus working toward his degree. During those years, the campus had its share of students who'd come back from Vietnam. "If their VA check didn't arrive in time, everyone took care of everyone else," Mr. LeFavor said. That was especially true of Mr. Maguire.
Mr. Maguire met Ginny Spellman at Bridgewater State. The couple married in 1977 and had two sons. Their father regularly volunteered as a Little League coach during off hours from his job as a social worker at Bridgewater State Hospital.
Mrs. Maguire described the time she and her husband spent at Bridgewater State as almost Edenic. "We had the time of our lives," she said. "The school was very important to us, and we made a lot of lifelong friends there."
The Muggsy Fund is accepting donations and will also be supported by an annual golf tournament held each June at the Easton Country Club, along with other fundraising events. In addition to helping BSU students in need of money due to a crisis or emergency, the money raised provides scholarships at Oliver Ames and Apponequet high schools (with preference given to students planning on coming to BSU).
For more information about the Muggsy Fund or to donate, log on to alumni.bridgew.edu/muggsy.