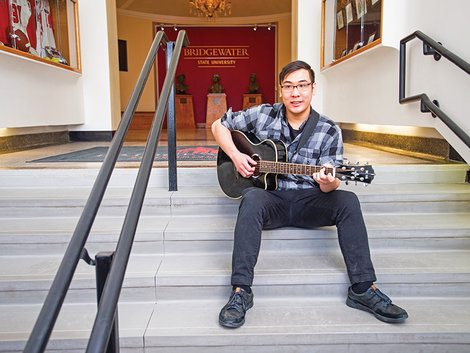 Story Series
Bridgewater Magazine
Mention to Henry Tran a favorite song of his, and he lights up and reaches for his guitar.
He's only been playing a short time, but he already has the skills necessary to play a complex song like the Beatles' "Blackbird."
"I'm into the guitar more now," he said. "It's a coping mechanism."
Henry is not a music major. That's just one of his pleasures. He's a physics major with a post-graduation dream of attending the U.S. Navy's Officer Candidate School and becoming a nuclear engineer.
The soft-spoken Worcester native, who grew up in Boston's Dorchester neighborhood, found his way to Bridgewater State University after being treated for depression, including time at the famed McLean Hospital in Belmont. Between the ages of 16 and 22, he lived in foster homes due to family issues.
Henry's roots reach back to Vietnam on his mother's side, and he recalls visiting the Asian country and loving the spaciousness and the ample greenery – qualities he also found when visiting BSU after high school. "The scenery was beautiful, and so much of the campus was new," he recalled.
Asked what drew him to physics, he's honest about the challenges the discipline requires. "It's great fun, but torturous at times," he said. "At least once a semester I have to ask myself why am I doing this." He spends lots of time in BSU's laser lab and is excited about the opportunities in the growing field of photonics.
On campus, Henry has been involved with the Society of Physics Students and the Asian Student Union, and he works with the Bear Team doing
outreach for the university's observatory.
He views graduation as "one of the big turning points in life."
Henry's dream of joining the Navy is noble unto itself, but this ambitious young man views it, like everything else he undertakes, as a chance to better himself as well. "I feel grateful to this country, but feel the Navy could also help me grow as a person."