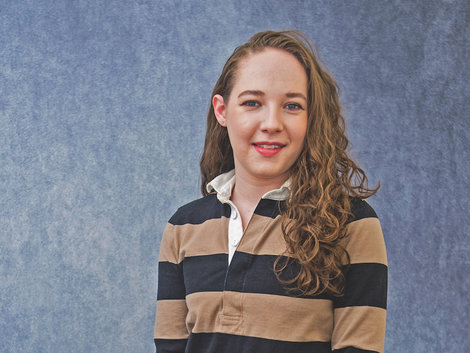 Story Series
Bridgewater Magazine
It must be nice to rewrite history as a senior in college. Vanessa Sherman, '19, recently did just that. For her efforts, she earned a place at Posters on the Hill, one of the nation's most prestigious forums for undergraduate research.
As an honors student double-majoring in political science and anthropology and minoring in Middle East studies, Vanessa is deeply interested in the building of democratic governments. During an internship at Plimoth Plantation, the Somerset resident studied the manner and extent to which the Mayflower Compact actually served as the foundation of Plymouth Colony's political life.
Vanessa found evidence that the Mayflower Compact was still in use 16 years after being created in 1620. Previous to Vanessa's discovery, historians believed that the Mayflower Compact was never used in the politics of Plymouth Colony. Her paper, "Testing Tocqueville: The Political Theory of the Mayflower Compact and Its Legacy," was researched and written under the mentorship of Dr. Jordon Barkalow, associate professor of political science.
Vanessa's research will be featured in Smithsonian magazine's Plymouth 400 commemoration issue.
What drew you to this topic?
People see the Pilgrims as simple churchgoers and simple people. I could see that a lot of our principles today can be traced to them. They had to be highly political and had to make a civil document to keep themselves together. They were facing so many challenges and had the ability to navigate them very well. In addition to this, Tocqueville places them as the founders of the United States.
What sparked your interest in the subject?
It was at my internship when I was reading old law books and codes, and I found references to the Mayflower Compact being used as the legitimization of the government 15 years later. At Plimoth Plantation, they thought it had been put away and not used for governance. It just kind of refocused the conversation.
How did it feel to be selected for Posters on the Hill?
I didn't think I was going to get it. When you talk to people who aren't interested in this topic, they say, "You're studying the Pilgrims?" So I didn't think my project was interesting enough. Then I got the email about being selected, and I was very, very excited. I love D.C., and I love talking about my project. So I can't wait to share it with the people on Capitol Hill. (Posters on the Hill was held April 29-30.)