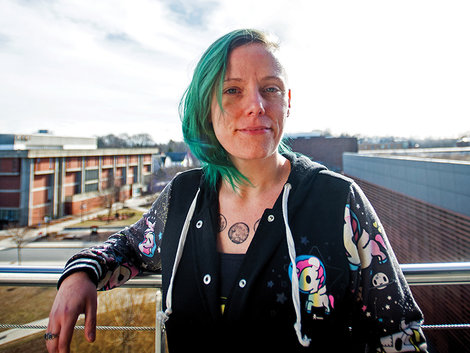 Ideally, I want to be part of something that will benefit humanity. I love research and discovery, and want to feel as though the work I'm doing is important.
Story Series
Bridgewater Magazine
It was the observatory that did it for Rydia Hayes-Huer.
As a student at Massasoit Community College (MCC), Rydia visited Bridgewater State University, and as a math tutor for MCC's STEM Starter Academy, got to chaperone a tour of BSU. "I was very impressed with the science building, but it was definitely the observatory that won me over," Rydia said.
Through the MassTransfer program, which makes it easy and affordable for students enrolled in a Massachusetts community college to move to a four-year state institution, last year they became a full-time Bear.
The 34-year-old Brockton resident's college career actually began in 2005 at Savannah College of Art and Design in Georgia, capitalizing on their solid drawing and design skills. At some point, Rydia had a feeling that a career in the arts might not be the right fit, and one day an epiphany arrived like a bolt from the sky – or the next best thing.
"The idea struck me while watching Cosmos with Carl Sagan," Rydia recalled. "It was at a time in my life where I was very unhappy with the choices I'd made and where my future was headed. I did not want to spend the rest of my life working in retail. Suddenly, I found myself wanting to understand the universe the way Sagan did, and what better way than to
go back to school and start working toward a doctorate in astrophysics. It sounded kind of ridiculous at the time, but I was, and still am, determined to get there."
At MCC, Rydia conducted research as an intern focused on native bee populations and their relationships to the health of ecosystems. After hearing about the BSU Experimental Astrophysics Research Team, Rydia became interested in transferring to the university.
These days, the physics major works with Professor Martina Arndt, trying to create a program that will allow scientists to better analyze solar eclipse images. Rydia will accompany Dr. Arndt, a national expert on solar eclipses, to Argentina this summer to gather data during a July 2 eclipse.
Rydia's inner artist, however, still gets a chance to shine. Currently president of the Society of Physics Students at BSU, and previously the speaker series coordinator, Rydia has created informational flyers about the group's various events.
"I've also found having an artistic background helpful in my computer science courses in keeping my code and outputs, such as graphs, text, visuals, etc., organized, user-friendly and aesthetically pleasing," Rydia said.
When it's time to be handed a BSU diploma, it's clear Rydia will be a well-rounded graduate and already has an idea of what to do with such a wide range of skills.
"Ideally, I want to be part of something that will benefit humanity," Rydia said. "I love research and discovery, and want to feel as though the work I'm doing is important. That being said, I'm still exploring different fields of astrophysics and can't say if there's anything specific my heart's set on yet. I'm really enjoying the solar research we're doing, and if I still feel the same way after this summer, I might choose to make that my focus."