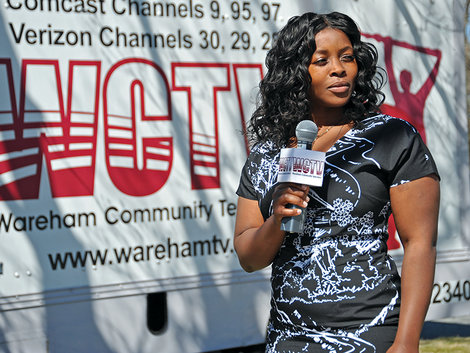 It really was a dream come true. I knew this would be my chance to be the woman I always wanted to be. I was reborn.
Story Series
Bridgewater Magazine
Watching Queen Butahe, '15, light up when she steps before the camera makes it clear that the Tanzanian native has found her passion. Journalism, storytelling, investigative reporting and serving as a watchdog over the powerful are all part of the job she's held now for more than two years as producer, writer, editor and multimedia journalist for Wareham Community Television.
"I want to use my skills in an activist role," she said.
Her biggest story to date did not happen on the local beat, but stretches back to the East African country she hails from. Born in 1993 in the small town of Sinza Makaburini, Ms. Butahe was dealt a childhood filled with adversity nearly from the beginning.
When Ms. Butahe was just 5 years old, her mother died, and her father left with her brother, leaving her to be raised by the maternal side of her family. Before she was 7 years old, she began experiencing physical and sexual abuse at the hands of a household servant, a family member and complete strangers. Once, she reports being touched improperly while riding a public bus. "Nobody saw anything or said anything, and that showed me that I was all alone," she said. "I also knew that if I spoke up, I was going to be labeled and stigmatized."
But speak up she has.
In Tanzania, almost three-quarters of girls and boys have experienced physical violence prior to the age of 18, according to a national survey conducted in 2011 by the nation's Ministry of Community Development. Ms. Butahe believes it's a cultural problem, and, indeed, some scholars say the country's patriarchal system contributes to
the problem.
Ms. Butahe has shared her story both in a book and a TEDx talk. She says some members of her family are not happy with her speaking out.
"I don't do it for me. I'm a grown woman, I'm independent," she said. "I'm no longer a victim, but I tell my story because I know mine is not a single case. I have to tell these things because it happens to so many people every single day."
Ms. Butahe remembers the exact date she landed in the United States: October 23, 2007. "It was a big deal," she said. "It really was a dream come true. I knew this would be my chance to be the woman I always wanted to be. I was reborn."
Ms. Butahe was taken in by the Carberry family of Franklin and first attended nearby Dean College, thanks to a full scholarship, but eventually found her way to BSU. "I loved it," she said.
Always harboring an idea of what college would be like, she said Bridgewater State University met those expectations and then some. "What I most enjoyed about BSU is that in my last year I took 10 classes per semester. They placed no restrictions on me. They gave me the room to make my own path," she said.
Ms. Butahe, known professionally as Queen Banda, is hoping to find an agent and further her career in the media so she can continue telling the difficult stories that need to be told, including about the abuse she underwent back home. "The least I can do is to say, 'It happened to me, and this is my story,'" she said. "I love my country, but this is a problem."
To hear Queen Butahe's TEDx talk, No Longer Silent, visit https://binged.it/2JVIHPp