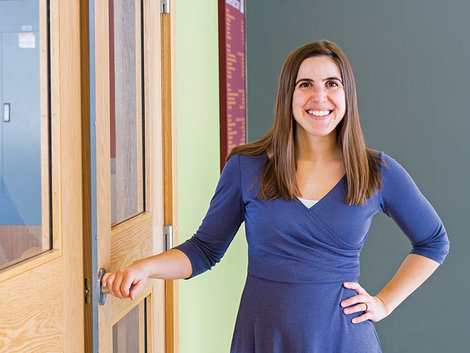 I have been lucky to maintain great relationships with many faculty members here, and now I feel really proud to return to BSU as a professor myself.
Vivi Pierce, '11, G'14, CAGS'18
Story Series
Bridgewater Magazine
For Professor Vivi Pierce, Bridgewater State University is like a second home.
"That's why I kept coming back for my graduate degrees as well," she said. "When I decided that I wanted to teach at the college level, it was the natural place to apply. I also knew that there were so many excellent faculty members in the math department that I could learn from, and those are the kind of people I want to work with."
Professor Pierce represents the many adjunct faculty members across the institution who hold degrees from Bridgewater State. They can be found in just about every department across campus. They bring into the classroom all they learned while attending the university as students; many also have real-world experience to share.
As for Professor Pierce (classmates may remember her by her maiden name of Liousas), she's an instructor in the Department of Mathematics. She also teaches math at Silver Lake Regional High School in Kingtson.
She's what's known as a triple Bear – a graduate with three BSU degrees. As an undergraduate, she double majored in elementary education and mathematics with a minor in art. Then she came back for a master's degree in teaching, and after that, a Certificate of Advanced Graduate Study.
Along with her classwork, she took advantage of many opportunities, including volunteering, student employment and undergraduate research. "My most valuable experience was my campus job as a tutor for Math Services," she said. "That is where I honed my teaching skills and discovered that teaching math was a passion."
There are many emotions alumni face when returning to campus to stand at the head of a classroom where they once sat as students. "It was terrifying!" Professor Pierce said. "Even though I taught the material to my high school students every day, it was scary teaching adults. However, after a couple of classes, we got into a good rhythm, and I was able to relax."
Helping her along as a newly minted educator were her one-time professors – now her colleagues – as well as faculty members she's met on the job. "I have been lucky to maintain great relationships with many faculty members here," she said. "And now I feel really proud to return to BSU as a professor myself."