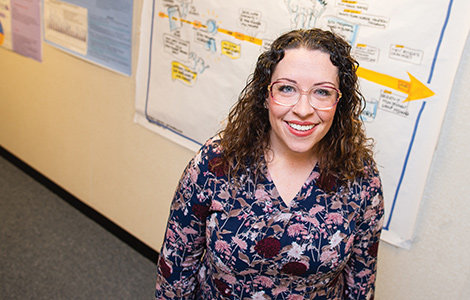 This place was the catalyst for all of it, it was people here pushing me and seeing my potential.
Dr. Taylor Hall, '10 / Social Work
Story Series
Bridgewater Magazine
In high school, Dr. Taylor Hall, '10, never imagined herself as a college professor. Back then, she didn't even want to be a college student. Now, she's teaching at her alma mater, Bridgewater State University.
Dr. Hall envisioned directly entering the workforce or the military, but her Norton High School guidance counselor encouraged her to at least apply to college. As her classmates solidified their college plans, Dr. Hall figured she should go too. She picked Bridgewater State because she could afford it.
Her decision to attend Bridgewater State changed her life.
"This place was the catalyst for all of it," said Dr. Hall, a first-generation student who majored in sociology and minored in social welfare. "It was people here pushing me and seeing my potential."
Dr. Hall is back on campus as an assistant professor in the School of Social Work. She finds it surreal to be a colleague of some of the professors who were once her mentors.
While initially studying elementary education and Spanish, Dr. Hall came to realize that teaching at the elementary school level was not for her. But she knew she wanted to help people. Her professors recommended sociology and social work and ultimately encouraged her to go on to graduate school. "I had so many influential professors who guided me in the right direction," said Dr. Hall, who earned a PhD from Boston University.
Outside of the classroom, Dr. Hall served as a social worker at the Suffolk County House of Correction. Many inmates battled addiction, a condition she argues needs to be treated medically. She realized she wanted to advocate for policy change and support organizations that provide inmates and others with the care they need.
It was during her doctoral studies that Dr. Hall discovered her love for teaching at the college level, and upon learning about a part-time opening at her alma mater, she knew she had to apply. She began teaching at BSU in 2017 and became full-time this year.
Dr. Hall relates to the struggles BSU students face as they juggle family and work responsibilities on their way to discovering their own passions and future careers. "I get the unique stressors of students who go to a state school. … I think it's important for them to see themselves in people leading their classes," she said.
Dr. Hall views education as a two-way street. To that end, she sometimes has students lead discussions while she sits with the class and participates. You'd almost think she's back here as an undergraduate herself.
"This is a learning environment," she said. "Everyone is learning."