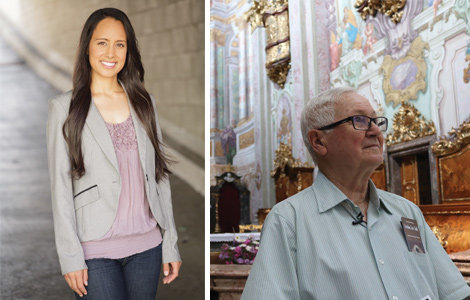 Story Series
Bridgewater Magazine
Artists are often asked where their ideas come from. For Professor Christina Hodel, the answer regarding her latest project is as simple as it is unique. The impetus for Freedom, Love, Gold came from none other than her karate teacher.
The assistant professor of communication studies, who came to Bridgewater State University three years ago, is hard-core when it comes to the martial arts (a black belt looms in her future). It was during a karate class in the summer of 2017 in her native California, when a fellow student told of how she'd come to the United States and worked her way up from an illegal sweatshop to a real job and a Stanford University scholarship.
A good story. Her instructor, Fred Tarnay, said he also had a tale to tell. "My family saved Hungary's treasury from the Nazis during World War II," he said.
For Dr. Hodel, it was one of those "come-again?" moments.
It was true. Mr. Tarnay's parents, Frederick and Kati, and their three young sons, during the last days of the war played a pivotal role in helping save their homeland's treasury – including 32 tons of gold and national treasures, such as the Crown of St. Stephen. The operation also involved hundreds of local residents associated with Hungary's national bank. A train carried the precious cargo over the border to safety in Austria. The operation held much danger: Dr. Hodel's research turned up letters from Mrs. Tarnay that spoke of the battle to survive in the face of starvation, freezing temperatures and Nazi attacks.
"As my teacher was telling me the story, I was thinking, 'This is already a film that I could see,'" Dr. Hodel said.
When she approached him about turning the story into a film, he told her he'd hoped all along she would. The summer after starting at BSU, with a grant in hand from the university's Center for Advancement of Research and Scholarship, Dr. Hodel began scripting the film. Principal photography took place during the summer of 2018; editing was completed earlier this year.
The World War II rescue mission represents a little-known event in history. Freedom, Love, Gold is told from the
perspectives of the three Tarnay brothers, Fred, Steve and Matt. They were young children when the event occurred, and they rode the train with their mother while their father was back in Budapest in a secret underground bunker where he managed what was left of the bank. The movie is based on what little personal memory the sons have, oral stories they remember and found family documents.
The resulting 70-minute film has been accepted into several film festivals, including the Miami Independent Film Festival, Docs Without Borders Film Festival, Vesuvius International Film Festival, University Film and Video Association, and in the coming months will likely make the rounds of other festivals around the world.
An additional reason the story appealed to Dr. Hodel was the role played by Kati Tarnay. "Many of the films I've made have involved strong women," she said.
Dr. Hodel is an American/French Polynesian filmmaker, screenwriter, film and television scholar, and educator. She began acting at the age of 10, but never considered getting behind the camera until she enrolled at California State University-Long Beach, where she earned her bachelor's degree in film and electronic arts. She also holds a PhD in film and media studies from the University of Kansas, and a master's degree in individualized study (film/dance) from New York University.
With more than a dozen films to her credit, including some that have been shown at festivals around the world, this represents her first full-length effort. In short, Dr. Hodel knows a good story when she hears one and has the skills to bring it to fruition. Still, she said she learned a lot during the production of Freedom, Love, Gold. In fact, making the film validated both her own educational experiences and the material she passes on to her students at BSU. "There were so many times when I went back to the skills I learned in school," she said. "And that's how the film got done."
One lesson she took to heart was the need to tune out the perfectionist inside. After shooting more than 23 hours of film on location in Hungary and Austria, Dr. Hodel had to put on her editor's hat and make the difficult choices necessary to turn a complex story into an engaging narrative. Agonizing over every possibility would have derailed the production, she said.
An additional point of pride for the filmmaker is that she's already been asked to return to her alma mater in Long Beach to screen the film and talk to students. "Now I'm going to be on that stage myself," she said. "That will be very special to me."
Freedom, Love, Gold offers several takeaways, Dr. Hodel said. "I hope people will learn something they didn't know before," she said. "I feel there's also a message about how resilient we humans are, and that if you want something, you need to fight for it."
Good advice for future filmmakers – and everyone else.