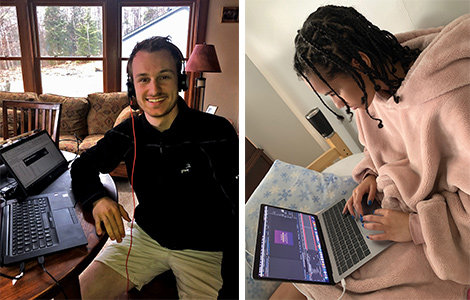 Story Series
Bridgewater Magazine
With businesses nationwide shuttered due to the pandemic, many people are working from home. So, too, are these BSU students whose spring internships have shifted from on location to online.
Reed Cullen, '21, an accounting-finance major, landed an internship as a seasonal real estate tax intern for PwC, a big four accounting firm. Originally slated for just the spring semester, his internship was recently extended through the summer.
Reed said he feels more productive working from home, but that it poses challenges as well. "You have to roll with the technical difficulties. There will be communication issues and technology setbacks, but maintaining a good sense of humor and a positive attitude is essential to putting your team at ease," he said.
Gabryella Serrano, '22, expected to spend her spring semester in Washington, D.C., as a full-time graphic design intern at Active Minds, a nonprofit whose goal is to change the conversation about mental health and aid in suicide prevention. But by mid-March she was back home completing her internship remotely. The art major and psychology minor was placed in her internship through The Washington Center.
Gabryella said she works at home from 9 am to 5 pm creating graphics for Active Mind's social media, blog posts and campaigns, just as she did while in the D.C. office. "Having some type of a routine is so important at a time like this," she said. "You can create daily or weekly goals to motivate yourself."