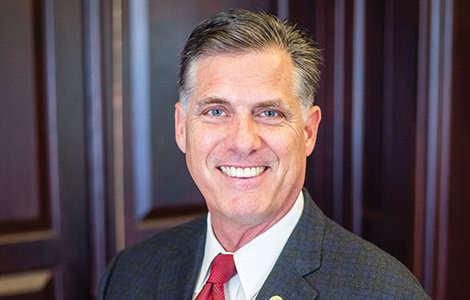 The keys to a better future, now as always, will be knowledge, experience, forward-thinking and the drive to see what lies over the horizon.
President Frederick W. Clark JR., ESQ., '83
Story Series
Bridgewater Magazine
Dear Friends,
It's been an extraordinary few months in the United States and around the world. The COVID-19 pandemic has killed more than 110,000 Americans, millions have been subjected to stay-at-home orders, unemployment has skyrocketed, and the economy has been shaken in ways unseen since the Great Depression.
While no one can predict the long-term effects of the pandemic, it's clear that at least temporarily, it has reshaped life as we know it.
We can all be proud of BSU's response to the crisis, which included converting all classes to online, while continuing to provide outstanding academic, health and financial support for our students, including the creation of a special COVID-19 Student Emergency Fund (see inside back cover for details). We have also shifted most of our workforce to telecommuting.
Meanwhile, everyone from maintainers to BSU police officers have committed to keeping the campus clean and safe, and we continued to care for more than 100 students in our residence halls for whom moving out would have created hardships. We had to postpone commencement but with a promise that we will hold an on-campus commencement ceremony when safety permits. Throughout, our rallying cry has been "We've got this." I have stated this with confidence because of the extraordinary people who are Bridgewater State University. I am grateful for their efforts.
Throughout, the trustees, Foundation members and the cabinet have managed with aplomb the enormous financial challenges brought on by the pandemic.
This issue of Bridgewater magazine was well underway when COVID-19 overtook the nation's headlines. Inside you will find several stories related to the pandemic and how the university and members of the BSU community have responded. This issue also spotlights BSU's nationally honored undergraduate research program. You'll read about the impressive work being done by students in laboratories, libraries, archives, classrooms and out in the field. Behind every story of student research success, of course, is a faculty mentor. These tireless educators, some of whom are featured in these pages, provide the kind of support and instruction that transform lives.
The spirit of inquiry that drives the students and faculty mentors is crucially necessary in these times, as the world grapples to move beyond this current crisis and prepare for those that no doubt loom ahead.
The keys to a better future, now as always, will be knowledge, experience, forward-thinking and the drive to see what lies over the horizon. These are hallmarks of a Bridgewater State University education. Just as important during these troubled times are empathy, kindness and a generosity of spirit – characteristics that define the BSU community.
Together we are a potent force. Let us draw strength from each other as we build a bridge to a better and healthier future.
With warmest regards,
President Frederick W. Clark Jr.