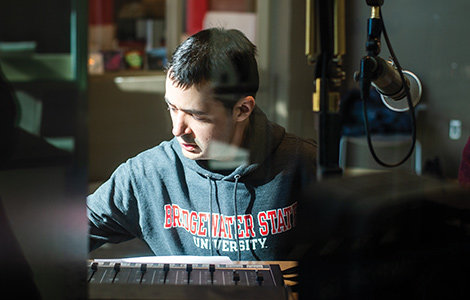 Story Series
Bridgewater Magazine
My name is Nathaniel Rego, and I am an individual with autism from Dartmouth. I have a great passion for writing, making videos and communications in general. I am majoring in mass communications. I have created written works, YouTube videos and podcasts throughout my life. Doing so builds my confidence and makes me feel a part of things.
Communication is very important to me because it enables me to interact with others. With the start of high school, I became fascinated with YouTube, Facebook, Twitter and Instagram, just as I had with writing and creating podcasts.
Through my middle school years, I did not know how to communicate with new people I met. When I was introduced to YouTube by my parents, I began to make videos and connect with people who had channels and videos of their own. I commented on and liked some of their videos. I also was involved in online conversations with fellow YouTube users.  
When I was at Bristol Community College, I had published some of my writing, including an article on the Titanic disaster and some film reviews. At the time, I was contributing to The Hawk, BCC's student newspaper. Also, I hosted my first radio show at BCC, a program I called EW, for Entertainment Weekly. I felt very proud, as the show enabled me to reach out to an audience. It taught me about responsibility, because I learned how important it is to be upfront with my radio audience when discussing various topics. I also listened to podcasts, which helped further inspire me as a DJ.
The success of my radio show at BCC gave me the confidence to sign on to host my own show on WBIM, Bridgewater's radio station. Not only does being on the air increasingly boost my confidence, it also allows me to interact with a campus-wide audience and feel that I'm more a part of the university.           
My WBIM show is called The Review, and its theme is all things Disney. I'm on Fridays during the semester from 1 to 2 pm. I am a major Disney fan, and each week, prior to my show, I create an agenda, which includes my introduction, a selection of Disney songs to play, and news topics mainly concerning Disney theme parks and movies.
As an individual who has autism, I have difficulty with communication. However, the radio show has made it easier to reach out and connect with others. I'd like to assume I have an audience who listens to me every Friday, and I enjoy being part of the university. This experience helps me envision a future in the field of communications. What I have learned from being on the radio is that it allows you an opportunity to be heard.
That is precisely what I want in the future – to be heard.