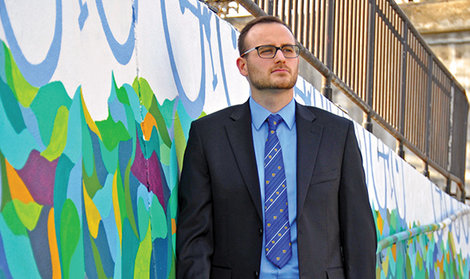 I've always been drawn to things that related to the environment and sustainability.
Anthony Hebert, '16, G'18
As a political science major, Anthony Hebert was seeking his passion. He furthered his search by staying on at BSU to earn a Master of Public Administration degree.
"I've always been drawn to things that related to the environment and sustainability," said the Sutton native, who now lives in Taunton. "And I found both to be important and up-and-coming fields. The fact that climate change is a major and growing issue also drew me to these topics," he added.
In short, Mr. Hebert was looking to perform meaningful work and have an impact, which is what led him to a position in municipal government.
It was hands-on work during BSU internships that led to his role as a senior planner for the City of Pawtucket, Rhode Island, a position he's held for three years. The internships were with the Bridgewater Parks and Recreation Commission, West Bridgewater Conservation Commission and Brockton's Old Colony Planning Council.
"These internships are the only reason I have this job," he said.
Pawtucket, which sits on the Rhode Island-Massachusetts border, is the Ocean State's fourth-largest city, with more than 71,000 residents, as of the 2010 census. The city has a lot going on these days.
"What I enjoy about the job is you never know what you're going to be doing," he said. "It's always
something new, and you get to interact with so many different stakeholders."
Mr. Hebert's role includes helping review proposed housing and commercial projects, working with the city's planning and zoning boards, applying for grants, and many other duties involving other forms of land use, such as open spaces, as well as business development in the city and lending a hand on local cultural events. Of late, concerns about sustainability occupy more of his workday. That's good news for this double Bear.
Recent projects include representing Pawtucket as part of the state's Municipal Resilience Program, which focuses on compiling information and ways to identify strengths and areas for improvement within the city in the face of climate change; a grant-funded project with the neighboring city of Central Falls to introduce green stormwater infrastructure; and an initiative with the Blackstone Valley Tourism Council to replace plastic bags at local stores with reusable ones.
As for his future, Mr. Hebert is happy where he is, but one day may look toward putting his MPA to further
use in city or town management. "Right now, I'm very focused on my job here and gaining more experience," he said. "I'm also looking at options to continue furthering my education through coursework in the fields of planning and urban development."