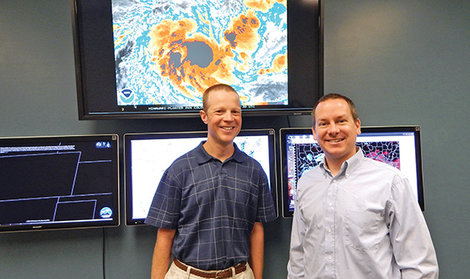 With the sea level being higher, the storm surge affects houses farther inland in from the coast. In addition, given the growth in population along the coast, there are more houses there to be destroyed.
The year 2020 was one for the books, as they say. The world's focus had been on the growing threat of the pandemic, and more recently, Stateside, a singular battle for the White House dominated headlines. For the scientists whose job it is to study hurricanes and tropical storms, 2020 found them dealing with one of the busiest years in recent memory.
Chief among them was Dr. Phil Klotzbach who as a research scientist at Colorado State University, serves as lead author for the annual hurricane forecast issued by the university.
"It was a very active season; I don't think anyone would disagree," he said.
For nearly two decades, Dr. Klotzbach has been one of the nation's preeminent experts on hurricanes. Last year kept him and his colleagues at CSU's Department of Atmospheric Science extremely busy.
Indeed, 30 named storms occurred during the 2020 hurricane season. It was such an active season that the National Oceanic and Atmospheric Administration, for only the second time in its history, ran out of names for emerging storms and had to move to a nomenclature system based on the Greek alphabet; hence hurricanes with names like Delta and Iota.
Dr. Klotzbach is a Plymouth native who now lives and works in Walnut Creek, California. He graduated from Bridgewater State with a degree in geography. As a student, he was active with the GeoGraphics Lab, which he said was always on the leading edge, such as back in the 1990s when it was an early adopter of GPS technology to perform such tasks as monitoring public transportation.
The curiosity and desire to forge new ground that was fostered in the lab has proved important to Dr. Klotzbach's career. Not only are he and his team constantly working to improve the models they use to predict each year's hurricane season, but during the so-called offseason, Dr. Klotzbach is busy conducting research, at times on questions concerning climate change and how it impacts hurricanes.
His findings as to whether climate change is making for busier and more destructive hurricane seasons? It's hard to say exactly what the impacts have been so far and what they may be in the future. In short, it's complicated.
Climate change makes the oceans warmer, which leads to the intensification of hurricanes. However, this is somewhat countered by climate change's impact on the atmosphere, which also warms. The warmer atmosphere tends to be more stable, stifling the thunderstorm development that fuels powerful hurricanes.
One of the clearest climate change-related links is the increase in sea levels. As they have risen, most likely due to climate change, this exacerbates another problem, one directly caused by humans: More people these days are living right on or near the coasts.
"With the sea level being higher, the storm surge affects houses farther inland in from the coast," Dr. Klotzbach said. "In addition, given the growth in population along the coast, there are more houses there to be destroyed" by massive rainfall and flooding.
People building houses in risky locations, such as in areas that were formerly bayous or other flood plains, is another factor that worsens the impact of storms.
Other questions, some of which Dr. Klotzbach is researching, include whether climate change or other factors are making hurricanes move more slowly, thus dumping more rain along their paths. "Climate change does create a warmer atmosphere, and since a warmer atmosphere holds more moisture, we observe more rainfall from hurricanes, as well as other weather systems. Whether storms are slowing down is a subject of intense scientific debate right now. If storms do slow down, that would also exacerbate flooding concerns, since slow-moving storms produce more rain over a certain area than would faster-moving storms."
The increase in the annual number of storms can be due in part to technology. Today's satellites and other tools enable scientists to identify weaker storms that decades ago may have slipped official detection.
In the scientific circles in which Dr. Klotzbach travels, he said the exact amount and causes of the increase in the intensity of today's storms is a subject of much debate.
"The warmer the climate, the increase in likelihood that storms will grow stronger," Dr. Klotzbach said. "But the debate as to how strong these storms will get continues."
A Busy Year
The 2020 hurricane season ended with a record 30 named storms, 13 hurricanes and six major hurricanes, including five Category 4 hurricanes, another record. It was the fifth consecutive year with above-average Atlantic hurricane activity.
Every single mile of the United States mainland Atlantic coast, from Texas to Maine, was under a watch or warning related to tropical cyclones at some point. Only five counties along that stretch avoided tropical storm-force winds.
So many storms were named that the secondary Greek name list had to be called upon for only the second time on record, the first being 2005.
Twelve of those named storms made landfall in the United States, topping the previous record of nine in 1916.
Hurricane Laura was the strongest and most damaging hurricane to make landfall in the United States, hitting southwestern Louisiana as a Category 4 storm with 150 mph winds on August 27.
September was especially active, with the formation of 10 named storms, topping the previous record of eight for the month.
On September 14, seven tropical systems occurred: two hurricanes, two tropical storms, one tropical depression and two tropical disturbances. The combined five tropical cyclones occurring at the same time tied September 1971 for the most on record at once in the Atlantic. Three of the seven systems made landfall.
During a six-hour span on September 18, three named systems developed, only the second time on record this occurred in a single calendar day, the previous instance happening in 1893.