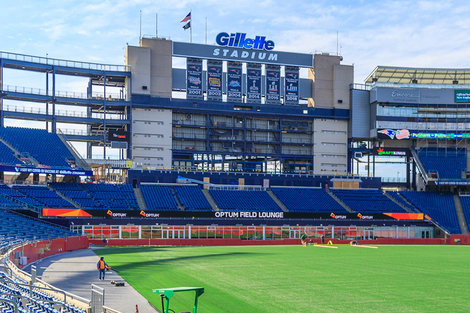 Story Series
Bridgewater Magazine
In the early days of the pandemic, President Clark announced that an in-person commencement ceremony for the Class of 2020 would eventually be held. Fulfilling that promise, 2020 graduates will celebrate their graduation, as will the Class of 2021, inside Gillette Stadium in Foxborough over the course of three days in late July.
Commencement is more than a ceremony, the president said. "That walk across the stage symbolizes years of hard work, resilience and sacrifice, as well as the possibility of a brighter future with a hard-earned college degree in hand," he said. "Many students carry the hopes and dreams of their families as they walk across the stage."
The state has authorized the stadium to safely host thousands of people — appropriately distanced from one another in the stands — while hundreds of BSU students will be seated on the field. Thanks to the spaciousness the stadium offers, and with four distinct ceremonies, graduates and their families will be safe while being able to celebrate the triumphs of BSU students as they walk across the stage one at a time.
For more information, visit www.bridgew.edu/commencement.