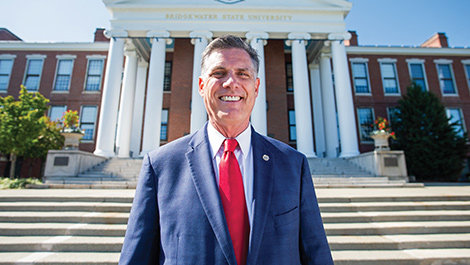 Times like these remind me of the oft-spoken adage: "It's not how many times you're knocked down that matters, but how many times you get back up."
President Frederick W. Clark JR., ESQ., '83
Story Series
Bridgewater Magazine
Dear Friends,
No one could have predicted the colliding stormfronts that 2020 brought to our door.
The pandemic, first among them, has to date killed more than a half-million Americans. The fight for racial justice, which seemed to be gaining ground nationwide, suffered many setbacks, and protests across the country, and more locally, challenged us to do better. Last, but far from least, American democracy was threatened in a series of post-election events culminating in the storming of the United States Capitol.
Times like these remind me of the oft-spoken adage: "It's not how many times you're knocked down that matters, but how many times you get back up."
Writing this in the early spring of 2021, I can tell you that Bridgewater State University is standing strong. Members of our community have been tested time and again, and each time have found a way to rise. Reflecting on this, I can only say that I am prouder than ever to be a Bear.
While we have avoided any sizable outbreaks of COVID-19 on campus, despite more than 1,200 students living in the residence halls, we know we have lost some important members of our extended family to this virus. The protocols and testing we have put in place (a special salute to the wonderful folks at the Wellness Center for their work on these fronts) resulted in a positive rate of under 1 percent, with nearly 40,000 tests completed. This and our on-site vaccination programs have paved the way for the campus to re-open to nearly full operation come this fall. All the same, our vigilance in following necessary public health practices must not flag.
Our institutional commitment to racial justice must be strengthened. The Special Presidential Task Force on Racial Justice has been hard at work holding an honest and loving mirror up to the university to see where we fall short and where we can and must do better to eliminate barriers to racial equity. The Task Force examined every aspect of the university. Its six subcommittees assiduously worked to collect and analyze data, and examine best practices on several fronts: curricula and co-curricula; workforce; education, training and continued learning opportunities for faculty, staff and students; investing in and supporting students; police and public safety; and creating a place for ongoing support, problem-solving, reporting, resolution and response. The Task Force has completed its work by delivering its report and recommendations to me. But the work of the university is just beginning as we set a course for making true systemic change and embedding racial equity in all aspects of our work at BSU.
As for American democracy, BSU has always been an institution centered on the belief in the primacy of educating graduates with the civic and critical-thinking skills necessary to be good citizens interested in maintaining, defending and furthering the ideals the United States was founded upon. Through our Martin Richard Institute for Social Justice, we are deepening and expanding that commitment.
Good news can be found in the fact that although BSU has had to confront some declines in overall enrollments, we have fared much better than many other universities, and thanks to the responsible stewardship of resources, the university froze student fees for a second year in a row and did not need to draw upon its cash reserves in 2019-2020 and 2020-2021. Campus improvements have also moved forward, including the first phase of installation of the privately funded Greg and Fay Wyatt Sculpture Garden in the courtyard space between the Rondileau Student Union and Maxwell Library. In front of the student union stands a new bronze bear sculpture, which is dedicated to all BSU Bears – past, present and those we have lost. The Bear Paw Pavilion at Swenson Field is nearing completion and will provide significantly upgraded facilities for our athletic teams when competition fully resumes in the fall. Meanwhile, the solar canopies installed at the Tower Lot are now operational and projected to save the university $2.2 million in electricity costs over the next 20 years.
None of these things could have happened without planning and a commitment to excellence – what I think of as the Bridgewater way. It's also fair to say that silver linings during such challenging times don't happen without teamwork. I'm grateful to all those members of our extended BSU family who came together to ensure that teaching and learning continued throughout this difficult time, that our facilities were kept safe and clean, and that the day-to-day operations continued unabated. My admiration for our students has only grown over the past year-plus, as they dealt with the vast challenges thrown their way and still managed to be successful on many fronts. Together we have weathered the storms, and I know we will emerge stronger than ever.
Finally, a personal note. My father, Frederick W. Clark Sr., passed away in April. On behalf of my family and myself, I want to extend my gratitude to all those who have called and written with their condolences. As much as his passing saddened my mother, his wife of nearly 63 years; my siblings; and myself, we felt some comfort in realizing the poetic justice that we lost him during Patriots' Day weekend. As an Air Force veteran; a 24-year volunteer public servant, who spent 12 years each as a selectman and planning board chair in the Town of Easton; and a man entirely devoted to his family and country, my father was a true American patriot in the most glorious sense of the word. He taught his children that it wasn't wealth or position that revealed one's true self, but the courage and commitment in serving others. Perhaps the early 20th century writer Clarence Budington Kelland put it best: "My father didn't tell me how to live; he lived, and let me watch him do it."
May we all be so blessed to have such role models and do likewise when it's our turn to lead.
With warmest regards,
President Frederick W. Clark Jr.