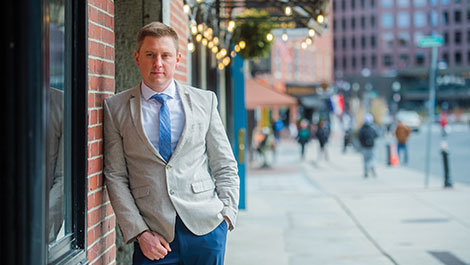 "I have a strong family commitment to helping people.'
Story Series
Bridgewater Magazine
Public service runs in Ben Thomas' family, which is part of the reason why when he came to Bridgewater State he was planning for a career in criminal justice. "I have a strong family commitment to helping people," the Wareham native said. He added that his mother was the biggest influence when it came to his desire to help others.
But at Bridgewater State, the idea of a different kind of public service took root. Through his studies, he came to believe that working on public policy might be the best way for him to contribute to the greater good. "There's no bigger impact you can have on people's lives," Mr. Thomas said.
He ultimately earned degrees in both philosophy and criminal justice, followed in 2012 by a Master of Science degree in law and public policy from Northeastern University.
Inspired by the legacy of public service of another Massachusetts native, U.S. Senator Ed Markey, Mr. Thomas joined the senator's staff last year.
Mr. Thomas previously worked as a legislative liaison for the Massachusetts Health Policy Commission and as chief of staff for State Representative Jim Cantwell in the Massachusetts legislature, where his portfolio included behavioral health, climate change adaptation, and health and human services.
For Senator Markey, Mr. Thomas is a regional director assigned to represent the senator in the 4th and 9th congressional districts. Most of his time is spent supporting Senator Markey's priorities, including advancing social justice in policy making, promoting the Green New Deal, combating the opioid epidemic, ensuring equitable access to broadband, and providing federal funding for Massachusetts cities and towns and those in need.
Mr. Thomas' days are also filled with front-line constituent and community work. "That is one of the things that Bridgewater did for me – it gave me the tools to be able to elevate the needs of the people in my community, and Senator Markey gives me the opportunity to do that," he said. "And, honestly, there's no better role to have."
The philosophy classes Mr. Thomas completed at Bridgewater State also have helped him see both sides of any issue. "You want to engage even with those you disagree with to try and find common ground, and to try to find the truth of the matter," he said. "And that is so important to public service . . . How do we make a better nation? We can't do that unless we are empathetic and try to find solutions to today's problems."
Mr. Thomas credits his time at Bridgewater State for broadening his outlook on life, particularly through courses with Dr. Aeon Skoble, Dr. Laura McAlinden, Dr. Jo-Ann Della Giustina and Dr. Jordon Barkalow.
"It's a cliché, but Bridgewater made me fall in love with learning," Mr. Thomas said. "I'd never even traveled before arriving at Bridgewater, but the courses opened my mind to the world. Bridgewater State helped me understand how learning and the love of learning can not only expand one's horizons but also feed a desire to help others," he said.