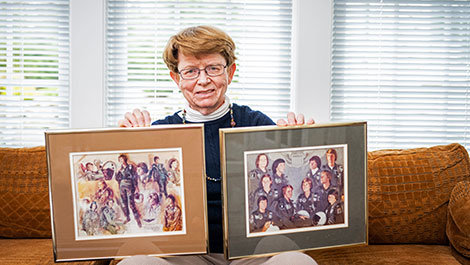 "I never thought of it as being a trailblazer. I thought of it as doing my jobs to the best of my ability."
Story Series
Bridgewater Magazine
If you are lucky enough to talk to Mary Donahue about her military career, you will hear about her vast experience in many areas: the planes she piloted, the training she received, the teaching she did, the good times and the challenges.
What she doesn't tell you is how much of a trailblazer she was.
Fortunately, the National Museum of the United States Air Force is happy to fill in the blanks. You see, Lieutenant Colonel Mary Donahue is a part of aviation history. She was among the first class of female officers to graduate from the Air Force Undergraduate Pilot Training Program (UTP), earning her wings in September 1977.
If that wasn't enough, Ms. Donahue was the first female pilot assigned to the Air Force Academy, where she taught senior cadets to fly the T-41 trainer. She also trained as a pilot on KC-135 jet tankers as part of the Strategic Air Command. Last but not least, Ms. Donahue was an instructor in the Department of Mathematical Science at the Academy.
"We did not think of ourselves as being firsts," she said of that initial UTP class of 10 young women. "We all felt tremendous, self-induced pressure. We knew if we did not make it – after all, it was a test program – others following would not be given the opportunity. We would not allow ourselves to fail, we had to make it for them. To see, now, how far women have progressed is tremendous.
"I never thought of it as being a trailblazer.  I thought of it as doing my jobs to the best of my ability," she said.
See? Humble.
In all, she spent more than 23 years on active duty, and nearly two decades more as a military contractor and civilian employee. At age 69, in 2017, she fully retired and moved to South Dennis, near where her sisters live.
When Ms. Donahue talks about her years of service, she doesn't concentrate on the glass ceilings she smashed through, but how much she enjoyed her time in the Air Force. "I loved the diversity in my career. I loved knowing a little about a lot of things," she said.
For all her love of the job, however, growing up in the Boston suburb of Brighton, Ms. Donahue did not have such a high-flying career in her sights. "When I was in high school, I didn't spend much time looking at colleges," she said. 
It was late in the game – December of her senior year in high school – when she heard from a friend about a college in Bridgewater.
"I looked it up and applied," Ms. Donahue said.
She was a math major, minoring in biology and physics, and lived on campus – Woodward Hall for three years and then Pope Hall as a senior.
It was at graduate school, studying math at Purdue University, that she began meeting men who were serving in the military. They made it sound like an interesting career. And, then, just like that, she decided to give it a try.
"I never really thought about what I wanted to do," Ms. Donahue said. "I make decisions based on the information I'm given at the time."
And so she was off to Texas and Officer Training School, unaware of her upcoming role in military history.
In the first half of the 1970s, women were slowly making inroads, penetrating the male-dominated world of the Air Force. When female officers were granted a chance to become pilots, Ms. Donahue was ready to take up the challenge.
She became a member of the UTP Class 77-08, the first cohort of female officers – 10 in all – to graduate from the Air Force Undergraduate Pilot Training Program. This allowed Ms. Donahue to train future cadets but didn't mean she could pilot a fighter jet. Rumors at the time claimed that this change would take place imminently, however, it took until the mid-1990s for it to become a reality.
In addition to her work training cadets to fly and teaching math at the Air Force Academy in Colorado Springs, Ms. Donahue worked with the Air Force's Armament Testing Laboratory, Armament Development Testing Center (working with air-to-air missiles and F-15 and F-16 fighter jets), Strategic Air Command and the Enhanced Crisis Management Capability Program. She spent years working at the Pentagon, managing budgets, and as the functional area manager for rated pilots, navigators and air battle managers.
"I felt all the jobs I had, I loved, I loved doing them," Ms. Donahue once told an interviewer from the National Museum of the United States Air Force. "I felt I did what I was supposed to. The job you're in now is the most important and (you need) to leave it better than how you found it."
She accomplished much but did so in the face of a formidable obstacle. "I did face severe discrimination my entire career in the Air Force," she said in the museum interview. "Both, I think, for my competence and for being a female pilot. But I still did my job to the utmost."
Ms. Donahue illustrates the point with the story of a soldier who was confused about where he was to be deployed and was told to call a particular number in Washington D.C. When she answered the phone and told the young man that he'd reached the Pentagon, his reply was typical for the time: "Oh, I got an operator," he said, disappointment in his voice. "I told him, 'No you've got the right person,' and helped him out."
Another time, a male fighter pilot asked if when she earned her wings, they carried a designation for "female." She set him straight. "I said, 'No, I am not a female pilot. I am a pilot who happens to be female!"
During her time flying, there were moments of tension and real danger. Ms. Donahue tells of being on alert as the Iran hostage crisis wound down. There were also close calls in the air – rare enough, but scary. Thanks to her training, skill and experience, she was able to avoid catastrophe.
During her years in the service, Ms. Donahue recalled that she had no female role models, but instead was given the most significant boosts by some of her superior officers: men who recognized her talents, such as Colonel William Lynch, and others who spoke openly of her well-deserved promotion to lieutenant colonel and overall excellent reputation.
After decades of working 10-hour days on behalf of her country, today Ms. Donahue says she's just as busy. She's studying Italian, singing in a local chorale group and involved in various other projects. "I'm busier now than ever," she said.
Asked about her career, Ms. Donahue is characteristically humble in her assessment. "Looking back, I probably would have been a doctor," she said. "I think I would have been one of those doctors who helped people in underdeveloped countries."
Then she adds, "But what a career I had."
Indeed. History and her country are glad Mary Donahue chose to earn her wings, break barriers and take to the open sky.
Some information for this story came from an interview with Ms. Donahue conducted by the National Museum of the United States Air Force. The audio is available on YouTube. Special thanks to David K. Wilson,'71, for bringing this story to our attention.