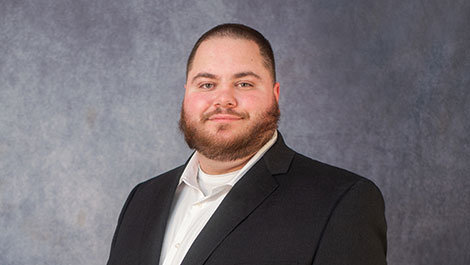 There are great organizations that help the homeless, but none cover basic hygiene needs well.
Story Series
Bridgewater Magazine
Alex Crisman, '21, G'23, is passionate about helping others less fortunate than himself.
So it was no surprise that after the Taunton native spotted a homeless man spending his days outside the Domino's Pizza where he worked, he reached out. His name was Caesar, and his family had shunned him after he'd served time in jail. Now he was living on the streets. Alex asked if he needed anything. Caesar told him he was having trouble getting a job, explaining that as a homeless man he was not always able to present a professional appearance at job interviews.
Alex went to the store and purchased hygiene products for his new friend. In short order, he also got Caesar a job application and clothes at a secondhand store. Not long after, Caesar stopped by the Domino's to tell Alex he'd gotten a job, was working with a local agency to obtain housing and even talked of getting a second job to save money to buy a used car. Within three months, Caesar had accomplished all of his short-term goals.
The incident fueled Alex's desire to help others. He and his brother Tony began visiting places frequented by homeless individuals and passing out hygiene products they'd purchased with their own money. Eventually, they formed the nonprofit Purpose Locker Foundation.
Alex earned a bachelor's degree in history and is pursuing a master's degree in student affairs counseling. We recently asked him to talk about his mission to help the homeless.
What is the main idea behind the foundation you've created?
There are great organizations that help the homeless, but none cover basic hygiene needs well. We realized that's the next step for a homeless person in order to get the job or help he or she needs. So much in our society is based on looks and perception, we thought this would be a great way to help people out.
How does it work?
We are building the first locker now. It will be open 12 hours a day and filled with hygiene products we buy at the dollar store. We plan to set up the lockers around Taunton. Eventually we hope to add hats, gloves, socks, rain ponchos and emergency blankets, and even expand to other cities. We're just trying to help people take the next step.
Where does this altruism come from?
My mom. She's always had this mindset that if you are in a spot where you can help people, it's your duty to do so. She literally would feed the neighborhood, babysit kids so their parents could work … anything to help. My brother and I definitely credit her for all we do.