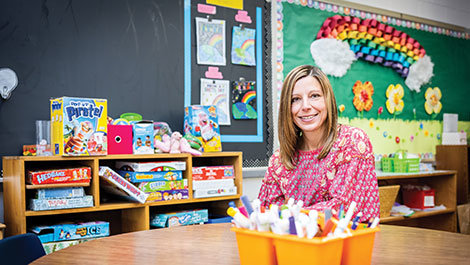 "Without this opportunity, I don't think I could do it. It's made such a huge difference."
Story Series
Bridgewater Magazine
Laura Joyce, '23, has been chasing her bachelor's degree for 13 years. During that time, she's worked as a paraprofessional. However, her dream of becoming a full-time public-school teacher has been on hold. Raising a family, a busy work schedule and high costs have kept the Plymouth resident from completing her degree.
That all changed when Laura learned about a grant program through the state and Bridgewater State University that provides up to $6,000 a year in tuition funds to help paraprofessionals (also known as teacher's aides) working in special education to get that first degree. She expects that within a year she'll be completing her bachelor's degree and soon have a classroom of her own. "Without this opportunity, I don't think I could do it," said Laura, who works as a paraprofessional at the Cedar School in Hanover. "It's made such a huge difference."
The Paraprofessional Teacher Preparation Grant Program is not new, but with the many complications wrought by the COVID-19 pandemic, it is getting a renewed focus. "It's a way for people who don't think they can afford college to do so," said Dr. Jon Cash, associate professor and chairperson of special education.
The grants are a great way for paraprofessionals to become certified as full-time teachers. It also helps fill a number of openings regionwide in fields such as special education. Designed for working professionals, the degree can be completed online or during the  evening, for maximum flexibility.
The pandemic exacerbated existing workforce shortages, not the least in education. In Massachusetts classrooms, as elsewhere, a lot of folks were forced to fill growing and unexpected needs due to staff shortages and other exigencies.
"A lot of paraprofessionals have said to me, 'You know, I found myself stepping into the teaching role during COVID, I had to take on these extra duties, but there was no extra pay or benefits because I didn't have the degree or licensure,'" recalled Robyn Ryan, associate director in the College of Continuing Studies. "I tell them that BSU and the state can help with an additional $6,000 a year."
She and her colleagues have renewed their efforts to spread the word about the program, especially with the many opportunities state- and nationwide for those with special education teaching credentials and experience.
"I spoke to a student yesterday," said Dr. Sheena Manuel, assistant professor of special education and former paraprofessional. "She wanted to get a degree and was a paraprofessional, however, she didn't know how to take that next step. I told her about this program, and, like many students, she felt it was too good to be true."
Applications for the Paraprofessional Teacher Preparation Grant Program are open until August 1. For information, visit bridgew.edu/ccs/cs-para.
Healing Lessons
These days when Dr. Jackie Boivin, assistant professor of elementary and early childhood education, is teaching tomorrow's educators, she bears in mind that the job has changed. "We teach our students how to be responsive to what today's kids are feeling," she said.
The reason such an approach is needed? The pandemic and its fallout.
"It's definitely something we are coping with now, and for our students who are working in classrooms, we talk a lot in class about what they are noticing on an emotional front," Dr. Boivin said.
Large-scale events through history have always impacted the developmental trajectories of children, and COVID-19 is yet another, particularly since it closed and disrupted schools around the world. A study that looked at school readiness losses during the pandemic, conducted in Uruguay and published in February, showed harmful impacts on children's cognitive and motor skills.
On the mental health front, meanwhile, a study in Child Psychiatry & Human Development looked at the findings of five studies on children, as well as 16 others on college students, and found "that both groups reported feeling more anxious, depressed, fatigued and distressed than prior to the pandemic."
Much of what today's elementary school teachers are seeing in their classrooms can be attributed to what Dr. Boivin calls the "pandemic lag." But there's also an emotional side to the effects.
In her Arts Methods course, Dr. Boivin discusses how teachers can use art to process trauma and express emotions. "We've been trying to focus more on student anxiety," she said. "When students are behind, their anxiety just increases. We've been doing a lot about how to support students dealing with this."
In her Math Methods course, the topic is often the increased rates of students suffering from poor social-emotional well-being. Creating safe learning environments, decreasing the old problem of math anxiety and learning how to reverse any negative preconceptions about math are keys that make learning more accessible. "With an anxious world around them, math shouldn't be another contributor to that anxiety," she said.
Even seemingly simple things like social cues may have lapsed over the past two years. "The youngsters may not know all of the ways to interact with one another," she said. "Eye contact, friendly interactions with authority figures, like a teacher, all need renewed focus."
Learning how to make the most of teaching remotely, should the need return, is also on the syllabus in Dr. Boivin's classes and those of her colleagues.
Outside the classroom, BSU education majors are working in area school districts and learning from veteran educators about ways to persevere through the hardships presented by unforeseen events, such as the pandemic.
Many lessons have been learned as COVID enters what is hopefully its final stages here in the United States. Perhaps the main lesson is to be mindful of its many impacts on the youngest of learners, Dr. Boivin said. "We're teaching them to have a level of flexibility because their students may not have internalized that material or not even attended their remote classes," she said. "We teach them to find a balance."