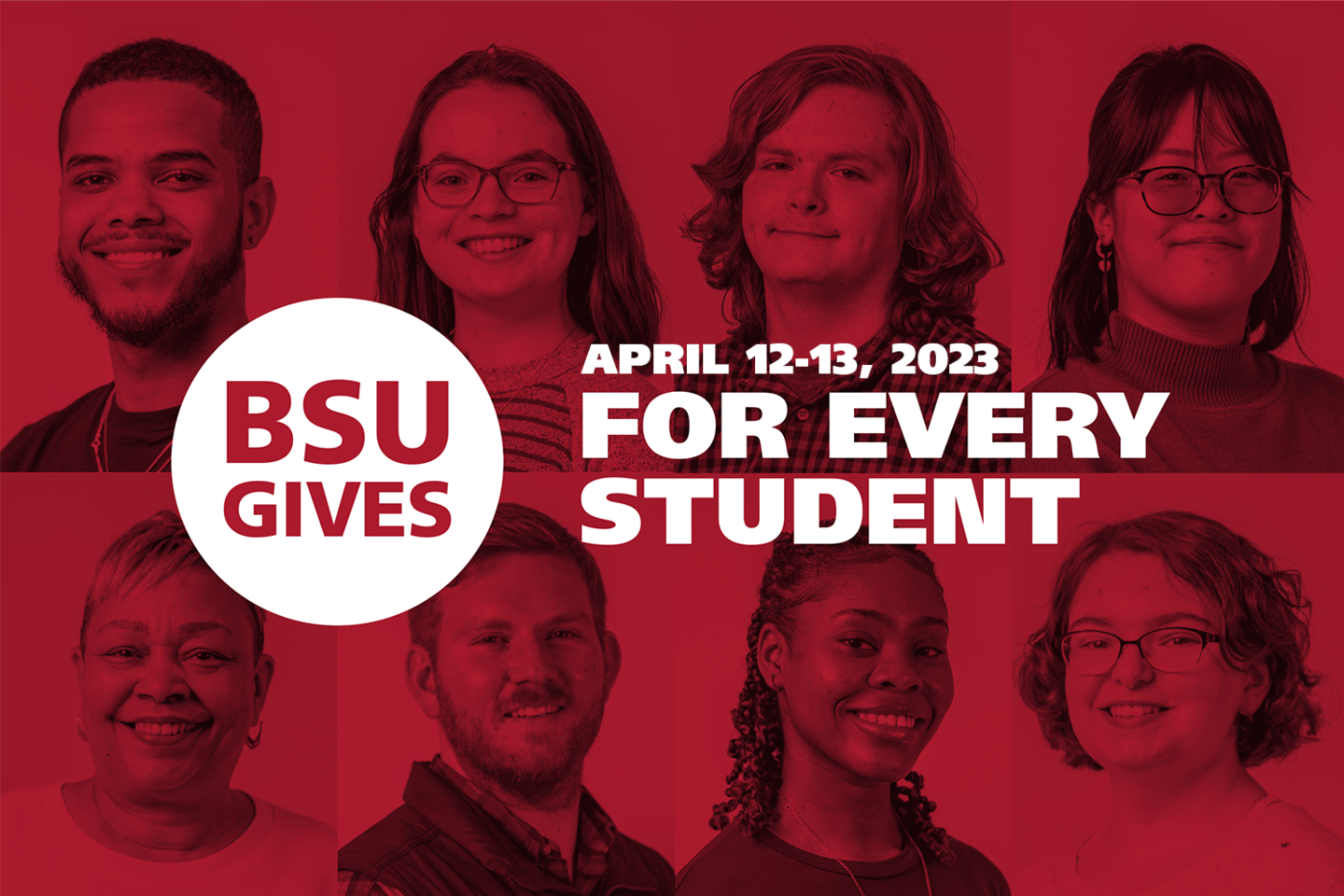 What is BSU's Giving Day?
An online fundraising day for everyone to come together to give back in support of BSU's future. For 1840 minutes the Bridgewater community will come together to support our students. Together, we can provide more resources and learning opportunities For Every Student at Bridgewater State University.
Why have a Giving Day?
A day of giving is more than just raising money online — it's a tool to engage leadership, administrators, faculty, alumni, and students by generating awareness and building a culture of philanthropy at Bridgewater State University. It is an incredible opportunity to tell our story, inspire our audience, and acquire new donors, all in support of our great university. Last year, over 400 members of the BSU community came together to help provide students with the support they needed to stay in school and succeed. This year, we hope to increase our alumni participation and raise over $160,000 for our students on Giving Day.
How can I be a part of it?
Show your pride on Wednesday, April 12 and Thursday, April 13:

Make an online gift: fundraise.givesmart.com/vf/bsugives
Give to the Bridgewater Fund or choose one of the many BSU funds that matter most to you. ALL gifts made from Wednesday, April 12, 2 p.m. through Thursday, April 13, 8:40 p.m. count.
Help us gain momentum and reach more people. Encourage your networks to follow your lead by letting them know you just made a gift and why Bridgewater is important to you.

"Like" the BSU and Alumni social networks
Post to Instagram or Facebook stories with a short video of why it is important to support the students of BSU. Get personal. Tell your Bridgewater story to inspire others to make a gift. Repost, share, and like #BSUGives on social media posts throughout the day.

Become a Fundraiser

Create your own custom fundraising page through our GiveSmart website by adding your own personal touch – text, photos and videos. It's quick and easy. Be sure to share your story of why it's important to you to open doors for BSU students. Share your page with your network of friends and family and encourage them to make a gift to in support of Bridgewater. Set your own goal and track your impact.
You will be eligible to win a special BSU gift, see below for details.
Please promote your page during the 1840 minutes of giving.
Watch this video for a quick guide to setting up your page or follow these steps…

Click the "Become a Fundraiser" button on our GiveSmart fundraising page fundraise.givesmart.com/vf/bsugives. Fill in your information, submit form.
Personalize your page. Upload a photo, set your goal, personalize your message, 'Save.'
Share your page. Click the Facebook, Twitter or email icons to create a custom message and share your personal fundraising page with your network.
Save the confirmation email to edit or update your page. This email will include your personal URL, social share buttons, and keyword for sharing.

All individual fundraisers: Will receive a special social media shout out
Fundraisers who raise $250 or more: Will receive a special BSU gift.
Match, Challenge, Incentives
Dollar for Dollar Match: Gifts made specifically to the Bridgewater Fund during Giving Day will be matched dollar for dollar up to $50,000!

Bridgewater Fund: The unrestricted Bridgewater Fund offers flexible funding to address the university's most urgent ongoing needs, providing critical support for BSU students through scholarships, paid internships, and other life-changing experiences and opportunities.

Colleges and Institutes Challenge: If the greatest needs (current use) fund of your college/institute receives 40 or more donors an additional $5,000 will be unlocked to your college/institute endowed fund!
2023 Group Challenge Match: We've identified the following challenge groups for this year's Giving Day. All gifts made to the funds below will be matched Dollar for Dollar up to $5,000!

Political Science: Dr. Shaheen Mozaffar Scholarship Award. This fund supports political science students who demonstrate excellence in research on international affairs.
IT: Ritesh Chandra IT Cares Student Scholarship Fund. This fund supports students studying computer science, technology, engineering, or information systems management.
Phys Ed Alumni Association: Thornburg Physical Education Scholarship. This fund supports students studying Physical Education.
Afro-Am Alumni Association: Ruth Batson Scholarship. This fund supports minority students in good academic standing with a proven record of co-curricular involvement and community service.
LGBTQ+ Alumnx Council: Achieving the Dream Fund. This fund supports programs that have been proven to close achievement/opportunity gaps for under-served students.

Reunion Leaderboard Challenge: In celebration of the upcoming reunion classes, the class with the most Giving Day participation will win a special Homecoming 2023 offer.
Fundraiser Incentive: Start your own fundraiser for BSU through GiveSmart and share with your network of friends and family and encourage them to give to BSU for Giving Day! All Fundraisers who raise $250 or more will win a special BSU gift.
Stay Connected on social media with the campaign: Follow university and Alumni social media channels, share hashtags, and more to spread the world about Giving Day!
Bridgewater State University is a family. We rely on our strong network of alumni and friends to enrich, enhance and elevate the lives of students who need extra support. Take pride in knowing you are part of our family and have helped change the direction of a life — one gift, and one student at a time. Thanks to you, Bridgewater can provide more opportunities and experiences — serving as a springboard for success For Every Student.