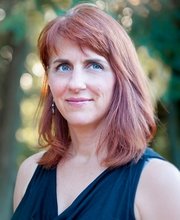 Rondileau Student Union, Room 020
BFA, State University of New York at Purchase
MA, American University
PhD, Boston University
Dr. Jody Weber received a BFA from SUNY Purchase in 1988. She was deeply influenced by teachers Sarah Stackhouse, Kevin Wynn, and Mel Wong. In 1992 she received an MA from American University focusing on dance history. At American University she was a recipient of a full teaching fellowship. In addition to teaching and graduate school studies, she continued to participate in the professional community through the works of Debra Riley and Beth Davis. In 2005 she completed her doctorate in dance history at Boston University.

Her professional company, Weber Dance, has been presented through numerous local outlets including Boston Center for the Arts, Green Street Studios, Mobius, Central Square World's Fair, Cambridge Access TV, Somerville Artbeat, Boston First Night, Casco Bay Movers, Salem State University, Framingham State University, Bates College, The College of the Holy Cross and Boston University. The company has also worked nationally with projects in Juneau, Alaska, The Dance Place in Washington DC, Spoke of the Hub in Brooklyn, Dance Mission Theater in San Francisco, and with Yow Dance in Florida. They have also toured Montana, British Columbia and Colorado. In the 2001, 2005, 2009, 2011& 2013 seasons, Dr. Weber received Artist Fellowship Grants from the Somerville Arts Council to support her choreography. She has also been awarded a Somerville "Artist of the Month" honor. She is a two season recipient of residencies at the Workspace for Choreographers in Virginia, a Boston Center for the Arts residency, and the recipient of a Boston Dance Alliance Retreat and Residency Award among others.

In addition to performing and choreographing, Dr. Weber has an avid interest in dance history. She presented her original research as a selected speaker at the Dance History Scholars Conference held at the New York Public Library in 1993. Her work as a dance historian and guest speaker was also funded through the Hall of Black Achievement at Bridgewater State College. In June 0f 2001, she worked on the Boston Dance History Survey with Ruth Benson-Levin through the Boston Dance Alliance. This project established the foundation to build an archive on local dance history. Her first book, The Evolution of Aesthetic and Expressive Dance in Boston, was published in 2009 through Cambria Press.

Dr. Weber has worked as part-time faculty at Stonehill College, Bates College, Emerson College, Salem State University and The College of the Holy Cross. Currently, she is Chair of the Dance Department at Bridgewater State University. Dr. Weber also teaches classes for the community at Green Street Studios and the Dance Complex in Cambridge.