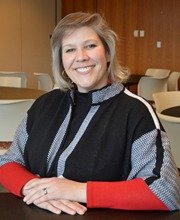 Associate Professor of Elementary and Early Childhood Education
BS, University of Rhode Island
MEd, University of Massachusetts Boston
PhD, Arizona State University
Dr. Pacheco-Guffrey teaches science, technology and engineering methods to wonderful, dedicated pre- and in-service teachers at Bridgewater State University. She researches educator technological pedagogical content knowledge (TPACK), writes the "Tech Talk" column for NSTA's Science & Children journal, and serves on multiple international committees for technology in education. 
Dr. Pacheco-Guffrey earned her PhD at Arizona State University (ASU) in science education, focused on STEM participation by underrepresented minoritized people. There, she was a National Science Foundation (NSF) Integrative Graduate Education and Research Traineeship (IGERT) Fellow in ASU's Center for Cognitive Ubiquitous Computing (CUbiC). Prior to this work, she worked in geoscience education under Dr. Steve Semken for NSF EarthScope and NASA Triad. Through these exciting programs, Dr. Pacheco-Guffrey worked with interdisciplinary teams of scientists and engineers on projects around science/engineering education as well as policy & access for people with disabilities. Before the whirlwind of adventures at ASU and meeting her wonderful AZ-native husband, Dr. Pacheco-Guffrey joined other top U.S. educators as an Albert Einstein Distinguished Science Educator Fellow in Washington D.C., appointed to the NSF Directorate for Geosciences. This role followed nearly a decade of teaching Earth and environmental systems at Framingham High in MA where she got to teach all the good stuff to fantastic teenaged humans. It's been quite the adventure so far and she can't wait to see what's next.
Area of Expertise
Science and engineering education, domain-based technology applications in science and engineering instruction (TPACK), teacher preparation, broadening participation of underrepresented minoritized people in STEM fields, place-based education, universal design for learning, technology use to support equitable education access.