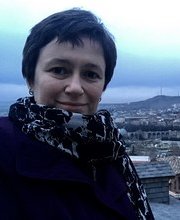 Associate Professor of Mathematics; MSCA Chapter Treasurer; Coordinator of Engage in Math
Science and Mathematics Center, Room 353
BS, MS, University of Calgary, Canada
EdD, Boston University
Polina Sabinin joined Bridgewater State University in 2011. She is the faculty coordinator of Engage in Math (an outreach program for P-12 teachers through the Center for Advancement of STEM Education) and Math Kangaroo (an international mathematics competition for students in grades 1-12).
Prior to coming to Bridgewater, Polina was the Associate Director of the Center for Mathematics Achievement at Lesley University, Associate Consultant for Teachers21, and developmental editor for Pearson Addison-Wesley. Currently she coauthors educational games for FoxMind Games, Canada. Her most recent game publication is Smart Cookies with Michel and Robert Lyons. Smart Cookies introduces children and adults to logic.
Polina Sabinin teaches Mathematics for Elementary Teachers I (MATH 112), Mathematics for Elementary Teachers II (MATH 113), Mathematics for Elementary Teachers III (MATH 114), and Second Year Seminars about Games in Mathematics.
Dr. Sabinin is also involved in interdisciplinary work with with colleagues in the country of Georgia, including the Shiraki International Multidisciplinary undergraduate Research (SIMuR) project funded by the National Science Foundation.
Her scholarship interests are in students' deductive reasoning as well as mathematics education through games and puzzles.
Area of Expertise
Mathematics education, Undergraduate Research, Interdisciplinary research