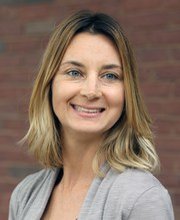 Assistant Professor of Movement Arts, Health Promotion and Leisure Studies
Angela Bailey received her PhD from Virginia Tech in human nutrition, food and exercise with a focus on community
behavior. Dr. Bailey currently teaches Principles and Practices of Health Education/Health Promotion, Epidemiology, and Program Planning in Health Promotion. Her research and scholarship interests include health literacy and nutrition and physical activity interventions that target at-risk populations. Dr. Bailey recently published an article in Health Education Research and was the recipient of the North American Colleges and Teachers of Agriculture Graduate Teaching and Leadership Award in 2015. She enjoys spending time with her family, cooking, biking and hiking.