The Science Behind Movement and Wellness
Physical fitness and well-being are essential to a healthy, productive society, and as a result, skilled physical education, health, recreation and training professionals are in high demand. The Department of Health and Kinesiology at Bridgewater State University prepares students for success as teachers, personal trainers, recreation specialists, adaptive fitness therapists, public health professionals and more.
Our faculty consists of highly experienced professionals who work closely with their students to help them achieve their academic, professional and personal goals. We offer four undergraduate degrees in Health Studies (BS), Physical Education (BA/BS) and Public Health (BS) – including a range of concentrations within each major to fit students' interests – and two graduate-level degrees in Athletic Training (MS) and Physical Education (MS).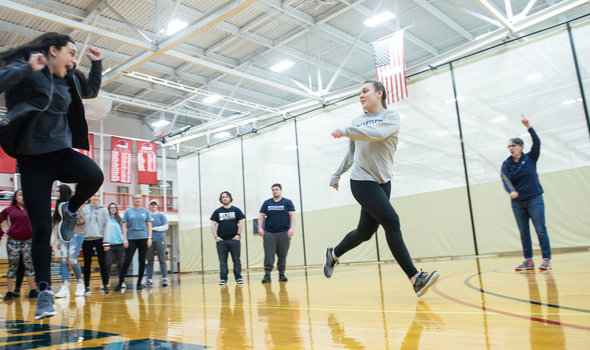 Health in Action, Bodies in Motion
Your exciting career in Health Sciences, Athletic Training and Physical Education kicks off at BSU.