With a degree in Photonics and Optical Engineering from Bridgewater State University, you will solve challenges and design solutions using the next wave in technology – light! Your degree will help you design novel lasers and laser applications, create new chemical and biological sensors, and revolutionize transportation and telecommunications. You might even play a role in the next generation of quantum computing.
At BSU, you will use the newest and most advanced undergraduate-only photonics and optics facilities in New England. Think hands-on with lasers, fiber-optics and Photonic Integrated Chips in cutting edge labs for engineering design, fundamental physics and optical biophysics. These labs include:
Laser lab for laser and optical cooling and trapping of atoms
Optical tweezers lab for DNA and cancer research
Photonics and optical research lab for PIC component and source characterization
New advanced fiber optics, nonlinear and quantum optics experiments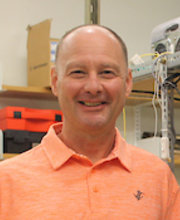 "We already have established quite strong connections with optics and photonics-related industries and a large number of BSU physics majors are fully employed and part of this economy. BSU's physics department is quietly already known for and part of the ecosystem providing outstanding graduates in this developing area."
Photonics and Optical Engineering Programs