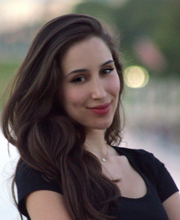 Assistant Professor of Political Science
Dr. Guy C. Clifford House, Room 105
BA, St. John Fisher College
MA, PhD, Northeastern University
Dr. Sidita Kushi is an Assistant Professor of Political Science at Bridgewater State University, where she teaches courses on international relations, U.S. foreign policy, methods, and more. She previously served as a Research Fellow at the Center for Strategic Studies, The Fletcher School of Law and Diplomacy at Tufts University, where she led the Military Intervention Project (MIP). She is the author of articles on military interventions, intrastate conflict, Balkans politics, as well as the gendered dynamics of economic crises, published in Comparative European Politics, European Security, International Labour Review, Mediterranean Quarterly, among others. She also contributes to public scholarship within outlets such as the Washington Post and openDemocracy.
Sidita specializes in mixed-methods research and has produced datasets and fieldwork narratives on the regional selectivity of humanitarian military interventions, the patterns and effects of U.S. military interventions, as well as policy responses to economic crisis across the transatlantic. She is currently working on two book projects: From Kosovo to Darfur: Why Military Humanitarianism Favors the West and America the Lost: The Devolution of US Foreign Policy. Sidita has received funding from the EUSA Haas Fund Fellowship, Brudnick Center for Conflict and Violence, Aspen Institute Germany, Northeastern University, and more. 
Sidita previously served as a Lecturer in International Relations and Statistics at Northeastern University, where she won an Outstanding Teaching Award, and as a Poli/Econ researcher at the U.S. Department of State.
Area of Expertise
International Relations, International Political Economy, Quantitative Methods, Comparative Politics, Military Interventions, Balkan Politics, Gender and Labor Markets, Economic Crises