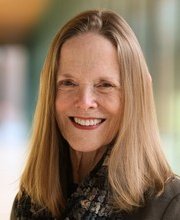 BA, Macalester College
MA, PhD, Boston University
Dr. Johnson has been teaching at Bridgewater State University for more than thirty years. She has taught fourteen different undergraduate and three graduate courses, six of which she developed. She has served on a number of committees both inside and outside the department, and was involved in the piloting of First-Year Seminars, to be offered as part of the University's new curriculum. Her primary interest lies in the investigation of evolutionary psychology and its interface with developmental, social, and clinical fields. She has developed several new courses on the subject and has integrated the perspective into every course she teaches. Her research interest is in testing evolutionary hypotheses - for example, those on behavioral and psychological sex differences at all points in development - in order to develop effective psychoeducational interventions for couples and families experiencing relationship difficulties.