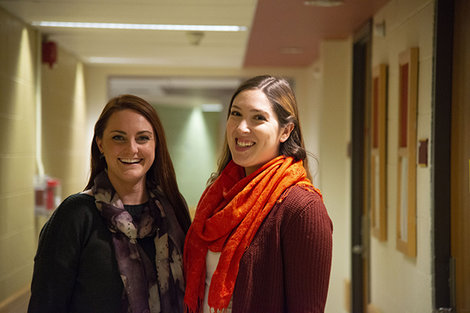 I would be lost without her. There's nothing she hasn't been with me through.
Emily Messina, '16, G'19, on her friend and college roommate Kristi Lehane, '15, G'19,
Story Series
News Feature
Emily Messina,
'16, G'19, and
Kristi Lehane
, '15, G'19, entered Bridgewater State University as strangers. After rooming together, they couldn't imagine life without each other. 
Their friendship is marked by dependability, whether mourning a loved one, celebrating an accomplishment, or even becoming stuck in a princess dress.  
Messina and Lehane met while sharing a room in Shea Hall as freshmen and quickly became buddies.
"There was never anything awkward. We went to dinner and we liked the same stuff," Messina said, recalling dining on Belgian waffles with strawberries.  "We bonded over food and our love of Disney."
Almost a decade later, they're still close friends and now coworkers in the West Bridgewater public schools. Messina teaches first grade at Rose L. MacDonald School, while Lehane serves special education students at Howard Elementary School.
Both have similar feelings about the youngsters in their charge.
"I look at their little faces and you want to do the best for them," Lehane said. "You can't disappoint a 10-year-old in front of you. You have to give them your best."
Added Messina: "They're looking for me to be positive and looking for a smile from me. … They make me better."
Messina, who majored in elementary education and English, and Lehane, who studied special education (moderate disabilities) and communication studies, also earned graduate degrees in their fields. They praise Bridgewater for preparing them to teach, thanks to practical experience in K-12 classrooms and professors' commitment to student success.
Of course, BSU also gave them their long-lasting connection, and that made all the difference in adjusting to college.
"It was scary to go to an event by yourself," said Lehane, who always had a pal in Messina when exploring campus.
"I'm super shy," Messina said. "I probably would have never made a friend if I didn't have her."
They lived in Pope Hall the following year and remained roommates throughout college. Having also rented off campus, they recognize how residence hall life connected them to BSU and helped them meet peers.
"Off campus, you don't know what is going on," Lehane said. "I wouldn't have talked to anyone."
As for the stuck dress, it was actually a princess costume Messina had to wear for a job she'd once had. A zipper had failed. Of course, Lehane was there to help peel her out of the costume. That's what friends are for.
"I would be lost without her," Messina said. "There's nothing she hasn't been with me through."
Do you have a BSU story you'd like to share? Email stories@bridgew.edu.