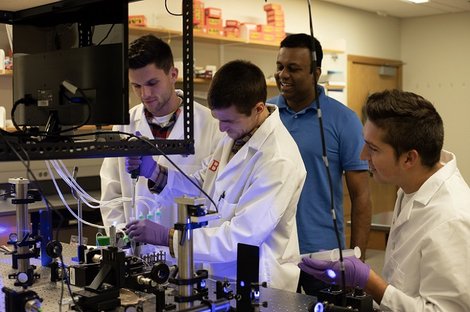 Research gave me the persistence to face unclear and challenging problems which I use every day in my career. It was instrumental in me finding a job after graduation.
Story Series
News Feature
When it comes to undergraduate research programs, Bridgewater State University can now say it offers one of the best in the country. 
This exciting news comes from the Council on Undergraduate Research (CUR) who recently made the announcement and will present its 2019 Campus-Wide Award for Undergraduate Research Accomplishments (AURA) to Bridgewater State University on January 24, 2020 at the CUR Executive Board reception during the annual meeting of the Association of American Colleges and Universities in Washington, DC.
Each year CUR honors institutions for outstanding graduate research in three categories. Florida State University and Occidental College were also recognized in their respective groupings.
BSU was recognized for its, "depth and breadth in undergraduate research in its commitment to a strong, comprehensive research program, as well as ongoing collection and analysis of data on student researchers' persistence in their studies. Its emphasis on diversity and inclusion is indicated through research experiences available to every student population and the establishment of noncompetitive student travel awards. The BSU research symposium may serve as a model for other institutions, and its faculty compensation regardless of the type of research conducted is a strength."
BSU Assistant Provost Jenny Shanahan said the recognition from CUR is an incredible honor.
"The award letter cites the very priorities we have pursued at BSU: diveristy, inclusion, equity in the transformation practice of undergraduate research, across every department and program ," she said. "I'm filled with pride in our student-researchers and faculty mentors whose work is among the highest quality produced in any college or university anywhere. This award is for each of them."
See other stories related to Undergraduate Research activities at BSU.
Brian Dolle, '19 knows firsthand how beneficial the BSU undergraduate research program is.
 After earning his degree in physics, the alumnus now works at Draper Laboratory, where he helps design and develop technological solutions to problems in the fields of national security, healthcare, energy and even space exploration.
"Undergraduate research at BSU pushed me to collaborate with classmates and professors, get valuable hands-on experience and to communicate technical information across all audiences," Dolle said. "More importantly, research gave me the persistence to face unclear and challenging problems which I use every day in my career. It was instrumental in me finding a job after graduation."
BSU President Frederick W. Clark Jr said he is deeply grateful to Dr. Shanahan and the faculty for their continued commitment to making the university the best undergraduate research program in the nation.
"I am very proud of our undergraduate research program, which has been a major driver of student success on our campus. We have made sustained investments in the program for 20 years and embedded undergraduate research across the curriculum, so students in management and English participate as well as students in physics and chemistry. Most importantly, undergraduate research aligns with our core values of providing all students with access to high-impact practices," Clark said.
Now in its fifth year, the AURA award draws on CUR's Characteristics of Excellence in Undergraduate Research (COEUR) which outlines criteria for exceptional undergraduate research, scholarship, and creative activity programs.
For AURA recognition, campuses must demonstrate depth and breadth in their undergraduate research initiatives and evidence of continual innovation.
"The 2019 AURA recipients demonstrate a dedication to diversity of undergraduates and academic fields, dissemination of student research, attention to essential support services and continual assessment," said CUR's Executive Officer Lindsay Currie. "CUR salutes these higher education institutions for their commitment to excellence in undergraduate research, scholarship and creative inquiry on their campuses."
Do you have a BSU story you'd like to share? Email stories@bridgew.edu