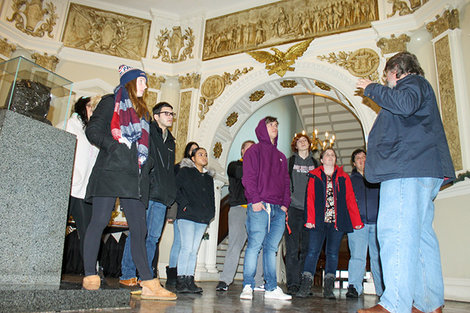 It's a thriving city. I had assumptions about Brockton and (the class) has helped break the assumptions.
Story Series
News Feature
Georgia Lane, '23, used to wonder if Brockton was safe. After taking a first-year seminar at Bridgewater State University, she began looking at the local city differently – as an ethnically and geographically diverse community waiting to be studied.
"It's a thriving city," said Georgia, a health science major from Pembroke. "I had assumptions about Brockton and (the class) has helped break the assumptions."
That is one of the goals for Dr. James Hayes-Bohanan, who first taught a class about Brockton a decade ago. The city, he said, is a perfect municipality to study. It is multicultural, urban (some students walk down their first city alley while taking this course), and close to campus. Students explore its connections to Cape Verde, Haiti and elsewhere.
"It's a lens on the wider world that they can learn," the geography professor said. "They can have international experiences within 10 miles of campus. … I hope it helps them to value the diversity of the communities they live in."
Geography, after all, is about much more than maps. It involves truly understanding another community.
This semester, students talked with a Brockton Hospital nurse, visited the Brightfield solar power facility, and met locals at Elvera's Café. Sometimes, they just drove around the city making observations and working to dispel stereotypes.
Students found fruits and vegetables as diverse as the grocery store's customers, natural areas to enjoy a walk in the woods, and Little Free Libraries where anyone can take and leave books.
Even Brocktonian Dale Quimby, '23, learned more about his home city's manufacturing history. He praised BSU for offering this course.
"I think it shows they care about the communities they have around them," the physics major said.
During a recent class, students visited Old Colony Planning Council, which helps cities and towns coordinate environmental, transportation, and economic initiatives that cross municipal boundaries.
The council employs a number of Bridgewater alumni, including Charles Kilmer, '93, who showed students a textbook from his days as a geography major.
Being a Bear "helped set the stage for what I wanted to do for a career," Kilmer said.
Kilmer, now the council's assistant director and transportation program manager, hopes students understand Brockton is comprised of people working together to improve their community. That's a sentiment BSU students share after spending a semester in the City of Champions.
"When you first hear about it, you look at Brockton as an unsafe place," said Mikey Skwarto, '23, a secondary education and math major from Taunton. "But, there's a lot more to Brockton."
Do you have a BSU story you'd like to share? Email stories@bridgew.edu.