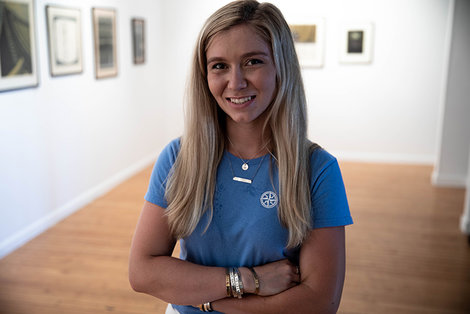 I can do it all myself because I learned it here.
Story Series
News Feature
Laurel Ryan, '15, has seized the entrepreneurial spirit since she ran lemonade stands as a kid. But, starting a jewelry business is very different than quenching neighbors' thirst. Thankfully, she has a Bridgewater State University education.
"I learned so much. I had so many great professors help me," she said, praising the classes she took in advertising, marketing, public speaking and business law. "I take that knowledge and use it in what I do now."
In fact, she doesn't need to hire outside vendors when advertising her business or crafting a social media strategy.
"I can do it all myself because I learned it here," said Ryan, who majored in management, with a concentration in marketing, and minored in public relations and accounting and finance.
Ryan, a recipient of Cape & Plymouth Business' 40 Under 40 Award, founded and runs Nautically Northern. She makes customizable bracelets, necklaces and rings by hand, stamping words and symbols on metal and expertly bending them to the correct shape.
Despite her company name, her creations include a variety of jewelry, not just maritime-themed products. A piece could feature the geographic coordinates of a favorite vacation destination or the name of a beloved pet.
Ryan has created more than 6,000 pieces during Nautically Northern's first three years, and her work is in about 80 stores from Maine to Virginia, and even Minnesota.
The Nautically Northern name is a tribute to its start on Cape Cod initially as just a hobby.
She balances her jewelry making with another job she loves – traveling around the world organizing corporate events with T3 Expo, a company for which she has worked since her junior year at BSU.
"Bridgewater fit everything I wanted to do," said Ryan, who grew up in Abington. "I was able to work full time and commute (to school)."
She's also a dedicated volunteer, serving on Red Cross boards during and after her undergraduate years. Ryan brings her philanthropic mindset to Nautically Northern, which has contributed about $6,000 to nonprofits and continues to donate to worthy causes.
"To be able to give back to so many amazing charities is really what drives me," she said.
But, starting a company isn't easy. Ryan perseveres through the challenges of being the only employee and having a business name that doesn't reflect the breadth of her product line.
"Don't give up. It doesn't happen overnight," she said of her advice for current BSU students. "If you work at it, it will. Just believe in yourself."
Do you have a BSU story you'd like to share? Email stories@bridgew.edu.