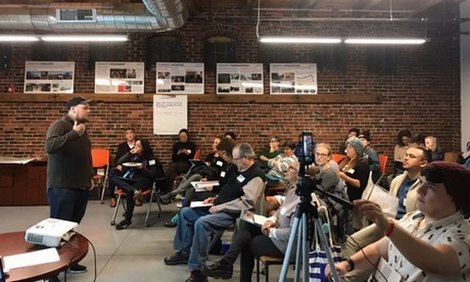 Story Series
News Feature
As a childhood gang member in a poor Philadelphia neighborhood, Jason Desrosier, '10, didn't think much about education. Bridgewater State changed his outlook, instilling a lasting commitment to help others.
"Going to Bridgewater provided the foundation for the mentality of service learning and community service and really helping people," said Desrosier, who works at the affordable housing nonprofit Allston Brighton Community Development Corporation.
The Philadelphia of Desrosier's youth was a city where crack and other drugs were becoming more prevalent. His mother bounced between jobs and formal education was not emphasized. 
As a teen, Desrosier moved in with family in suburban Massachusetts. He struggled to adjust to a place where education was valued and ultimately dropped out of high school. He then earned his GED, and, at the urging of friends, applied to Bridgewater.
"I never really planned on going to college," he recalled. "I don't think I particularly valued it."
Desrosier found his calling within Bridgewater's Department of Sociology. Many topics sociologists study are ones he had encountered in life, so he pulled from personal experiences in his academic work. He also became involved in student organizations such as Free the Children, which helps build schools and supports children's rights in poor countries.
"Being accepted and doing well in classes provided a foundation for me to really value education," said Desrosier, who in addition to majoring in sociology, minored in social work. 
Desrosier praised supportive faculty such as Dr. Michele Wakin, an associate professor of sociology.
"Jason never let an opportunity go by," Wakin said. "When other students might have given up, he never did."
Desrosier earned a master's degree in urban and regional policy from Northeastern University. He followed his passion for giving back, from assisting the homeless at Father Bill's & Mainspring, to working on a city of Boston initiative to help students in low-performing schools succeed.
Desrosier is the manager of community building and engagement at Allston Brighton CDC. His multi-faceted job includes building residents' leadership skills and tackling development and transportation planning. 
"Jason's really young, not only to have found a series of jobs, but a meaningful career and something that benefits the commonwealth," Wakin said.
He's also back on campus as a part-time instructor.
Desrosier encourages BSU students who face challenges like he did to become active on campus, step out of their comfort zone, and expand their networks. 
"It's easy to feel you're the only one experiencing what you're experiencing," he said. "Bridgewater brings together students from all different kinds of experiences and backgrounds. Know you're not alone." (Story by Brian Benson, University News & Video)
Do you have a BSU story you'd like to share? Email stories@bridgew.edu.