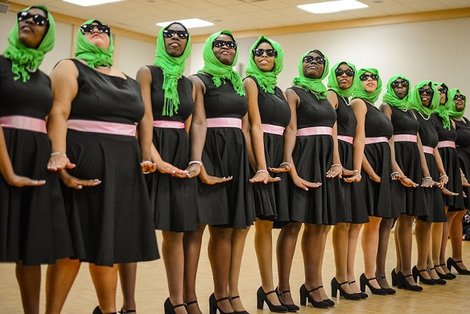 Story Series
News Feature
[Editor's Note: This is the third of four stories for Black History Month]
As part of Black History Month, Bridgewater State University is highlighting some of the relevant people and initiatives in the institution's nearly 180 years. These pioneers and trailblazing developments have helped make the Bridgewater of today a place of acceptance, inclusion and diversity.
A PIONEERING PROFESSOR
In 1958, Willie O'Ree broke the color barrier when he stepped on the ice in his first game for the Boston Bruins. Meanwhile, a federal judge that same year ordered Louisiana State University to desegregate, thereby clearing the way for 69 African-Americans to enroll.
The year 1958 also saw Clement C. Maxwell, president of what was then known as Bridgewater State College, offer a full-time faculty appointment to Dr. Robert A. Daniel (pictured at right).
Daniel became the first full-time faculty member of color. The popular art professor remained at Bridgewater for the next 30 years.
In 1973, he was among the originators of the institution's Afro-American Award. Upon his retirement, the award was renamed the Dr. Robert A. Daniel African-American scholarship. It was endowed in 2000, and has since funded two annual scholarships. The first is given to a senior of African-American descent having achieved the highest academic average during his or her undergraduate years. The second is awarded to a sophomore student demonstrating the most significant improvement in academic performance over his or her freshman year.
Daniel died in September 2016 at the age of 90.
FORGING THE WAY
The school's first black graduate, Sarah A. Lewis, completed her studies at what was then the State Normal School at Bridgewater in 1869. This was a year before Harvard University awarded its first undergraduate degree to a black student.
Lewis, who hailed from Fall River, came to Bridgewater at time when many of her peers were working in her native city's textile mills. As part of her acceptance, Lewis committed to teach in Massachusetts public schools upon graduating.
A painting of her hangs in the Maxwell Library as part of the institution's Massachusetts Hall of Black Achievement (HOBA).
THE HALL OF BLACK ACHIEVEMENT
HOBA found a home at Bridgewater State when civil rights activist and Boston television and radio personality Lovell Dyett approached the school with the idea of establishing a way to acknowledge the significant achievements and contributions of people of color.
The Hall of Black Achievement was instituted on campus in 1987. Through 2011, each year a heritage celebration was held to posthumously induct historical figures and to honor top students of color from Bridgewater and other state schools. The portraits of the well-known honorees – including Martin Luther King Jr., Malcolm X and Harriet Tubman – still decorate the hall on the first floor of the library.
A NEW MINOR
In January 2018, BSU launched a new minor in African American studies. Approximately 30 students are participating thus far.
Through the minor, students discover African Americans' history, experiences and culture. They also understand more about race, explore how African Americans have influenced the country, and ponder events and topics from different perspectives.
For more information, contact Dr. Emily Field, assistant professor of English and coordinator of the minor, at e1field@bridgew.edu.
GROUNDBREAKING SORORITY
This past December, 13 young women became part of BSU history when they were welcomed into the school's first-ever black sorority, Alpha Kappa Alpha. University Advancement Director Diane Bell was instrumental in bringing the Greek life organization to campus.
At the time of the induction ceremony (pictured above), one of the inductees, Star-Asia Kuwornoo, '20, commented on the historic event: "I feel Bridgewater State University is going in the right direction of incorporating diversity on campus. Now this illustrious organization can assist this campus to excel and grow and bring all walks of life together." 
Years from now a new generation will look to the past and undoubtedly feel inspired to take action and, like those before them, create another page to add to the BSU black history story. (Story by Heather Harris Michonski, University News & Video)
(Special thanks to David Wilson, '71, presidential liaison to Bridgewater's emeriti faculty; and Orson Kingsley, BSU librarian and head of archives and special collections.)
Do you have a BSU story you'd like to share? Email stories@bridgew.edu