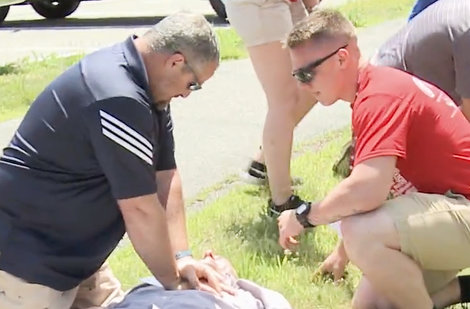 Story Series
News Feature
Bridgewater State University is staking out a leadership position in the battle against opioid addiction and overdose.
To that end, last week the campus hosted a symposium devoted to issues surrounding the opioid epidemic. The event included a session dedicated to opioid awareness and Narcan training, while another was devoted to facilitating the collaborative efforts of emergency service workers and athletic trainers while helping victims of overdose.
The creation of the event came at the direction of President Frederick W. Clark Jr. He got College of Education and Allied Studies Dean Lisa Battaglino onboard, who reached out to athletic training faculty. Professor Kimberly Wise, ATC, picked up the gauntlet, saying that these days evidence-based training in the areas of opioid addiction and overdose protocols are high priorities for emergency workers and athletic trainers.
A highlight of the day was an overdose simulation, allowing participants to see up close how Narcan should be administered, as well as other protocols when dealing with this type of situation. (Video by TVS for University News & Media)
(Warning: Video contains an overdose simulation.)