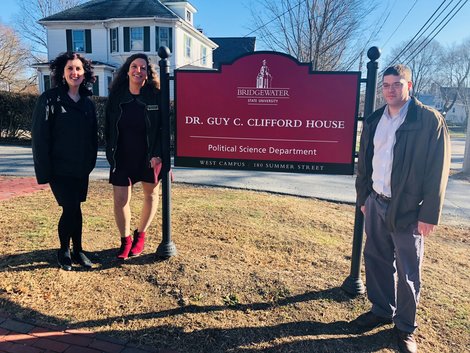 Story Series
News Feature
Melissa Sullivan, G'20, didn't wait long to put skills she honed in Bridgewater State University's certified public manager program to use. When she did, Sullivan (pictured at far left below) helped make everyone who lives, works and studies at BSU safer.
 
Sullivan, business unit analyst for the town of Bridgewater, helped the community add eight firefighters, thanks to a federal grant. That means the fire department can always staff its tower truck, which is needed to reach upper floors of BSU's taller buildings.
 
As she tackled that project, she gained knowledge from classes on budgeting, grant writing and other aspects of public and nonprofit service. Sullivan praised students and professors for bringing real-world experience into the classroom.
"I really learned a lot about public service from my classmates and my teachers, and the appreciation for what that entails," said Sullivan, who is pursuing an MBA at BSU. "I learned a lot about how to develop skills to reach my professional goals."  
Sullivan joins Brewster Assistant Town Administrator and Procurement Officer
Donna Kalinick
(pictured at left of sign), and Lowell Housing Authority Executive Assistant
Andrew Rocha
, G'16, (pictured at right) as BSU's first three certified public manager graduates. Bridgewater is the only school in Massachusetts that offers the certificate program. The leadership development program, housed in the
Department of Political Science
, is accredited by the National Certified Public Manager Consortium.  
The program is geared toward public and nonprofit sector managers. Students complete 12 courses, covering topics such as human resources, information technology, and conflict resolution. Some even receive promotions while tackling the program.  
"We want very strong leadership and competencies and abilities so when we're providing programs and services to our communities, they're the best that we can possibly provide," said Program Director
Jodie Drapal Koretski
, who is also a part-time political science professor.  
Students complete a capstone project related to their job or community. Kalinick worked on creating an affordable housing trust, while Sullivan tackled firefighter staffing. Rocha developed a communications plan for the housing authority.  
"I think I learned a lot from my colleagues within the class," said Rocha, who earned a master's in public administration from Bridgewater. "We share similar issues within our organizations and it helped me generate ideas about how I can improve in my own role and improve my organization."  
All three encourage public and nonprofit workers to consider the program.  
With town administrators and finance directors retiring, municipalities need a pool of workers ready to fill their shoes. And, government is changing with more demands on services and need for innovation, Kalinick said.  
"People who want to be in this line of work need to think outside the box," she said. "Education helps with that."
Do you have a BSU story you'd like to share? Email stories@bridgew.edu.