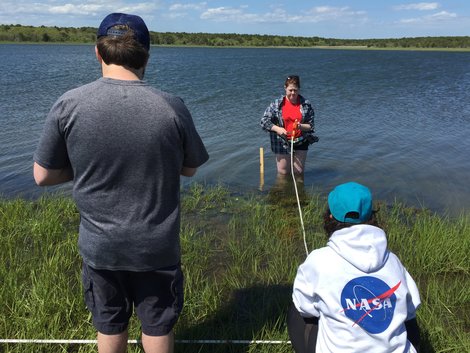 We're looking at a piece of human history that hasn't been touched in God knows how long. It's just fascinating.
Story Series
News Feature
During eight years in the U.S. Navy, Edward Bajercius, '21, got used to being around watercraft. Now a Bridgewater State University student, Edward recently found himself exploring an unfamiliar vessel shrouded in mystery.
In a weeklong anthropology class through BSU's Cape Cod campus in Yarmouth, Edward and fellow Bears traveled to Mashpee's Sage Lot Pond, where the remains of a wooden ship are visible.
"We're looking at a piece of human history that hasn't been touched in God knows how long," said Edward, an anthropology major with a public archaeology concentration from Bridgewater who hopes to pursue a career in maritime archaeology. "It's just fascinating."
The students, who are in Dr. Calvin Mires' Graveyard of the Atlantic course, spent two days measuring and documenting the wreck in South Cape Beach State Park. On June 6, the 75th anniversary of the Invasion of Normandy, a turning point for the Allies in World War II, the group visited nearby Washburn Island, where the United States Army practiced amphibious landings in preparation for D-Day.
The students learned the basics of documenting shipwrecks and other pieces of marine heritage. With more than 3,500 such sites just in Massachusetts, there's plenty of work for inquisitive, budding researchers.
"It was really a lifelong goal of mine as a professor of maritime archeology to get a field school down at Cape Cod," said Mires, a visiting faculty member.
The BSU contingent is the first group to document the Sage Lot Pond shipwreck, which officials think is becoming exposed due to erosion from rising sea level. Mires estimates the vessel is about 60 feet long and 12 feet wide. No one knows how it came to rest in a pond by the ocean.  
"We're trying to solve maybe a 100- to 100-plus-year-old mystery," he said.
Students began to unravel the puzzle using tape measures to stake out the length of the ship and measure futtocks, which are timbers that are part of a frame. They called out numbers to each other and developed a site plan and report on the wreck.
"It's fun because we're the first people who are doing this," said Catherine Dwyer, '21, an English major from Duxbury. "We don't know what's happening out there and, because of that, we're offering a unique perspective as opposed to someone who has done this their whole life."
This is very different than the English classes Catherine is accustomed to taking, but she said academic diversity is part of what makes BSU great.
"I needed an elective course and I was interested in any class that could take me out of my comfort zone," she said. "I love it."
(Drone photo by Edmund Kenney.) 
Do you have a BSU story you'd like to share? Email stories@bridgew.edu.