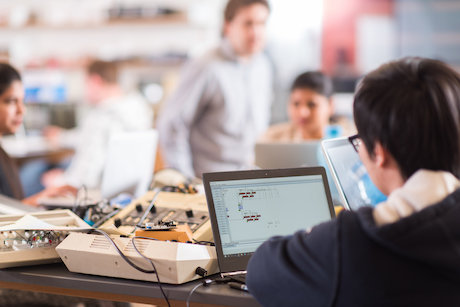 Story Series
News Feature
Problem: The country needs professionals in cybersecurity and artificial intelligence.
Solution: Bridgewater State University
At least that's what officials at the federal Department of Education must have been thinking when they awarded BSU's College of Graduate Studies as much as $450,000 over three years to prepare graduate students to meet workforce needs.
"They were looking for areas in which we have a dearth of people who have the right skills," said Dr. Lisa Krissoff Boehm, the college's dean.
The money, which comes from the Graduate Assistance in Areas of National Need initiative, funds a new fellowship program that provides graduate students up to $34,000 per year while they study computer science. BSU anticipates having three fellows at a time. 
"I am really proud that we were selected," Boehm said. "It's a big, big deal because (fellows) can just concentrate on their studies."
This marks the first time the College of Graduate Studies will award fellowships, though many graduate students earn money by working on campus through assistantships.
Fellows will focus full time on their studies, since tuition, a living stipend, and other expenses will be covered. They will also learn college teaching skills. 
The computer science program serves students looking to work after graduation or further their education.
"At Bridgewater, we are all those things," said Boehm. "We're really connected with outside industry and we do have students looking at going to PhD programs."
Boehm added: "We hope to be able to attract new students to the program with this financial support, and to contribute well-qualified graduates to our local, regional, and national workforce in an area of national need."