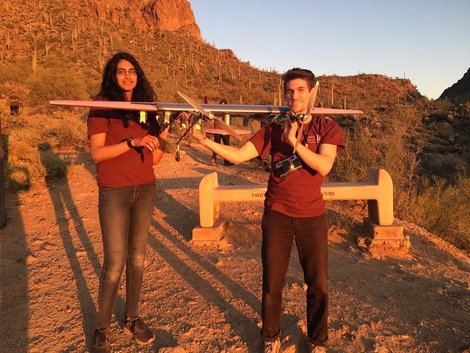 It armed me with the confidence to know I can succeed anywhere.
Brian Dolle, '19, on his BSU education
Story Series
News Feature
As the sole outsider on an MIT aeronautical team, you might think Brian Dolle, '19, would feel inferior. Thanks to his Bridgewater State University education, Brian was right at home with the brainiacs from Cambridge.
"That's 100 percent attributable to BSU courses," said Brian, who is from King of Prussia, Pennsylvania, and majored in physics and mathematics. "Without those courses, I would have been completely lost. I wouldn't have known anything."
Instead, Brian understood underlying ideas, even if his teammates on the MIT Design/Build/Fly Team sometimes employed different terms. Brian was an integral member of the team, helping his MIT counterparts devise and construct a remote-controlled aircraft.
The team worked for seven months through a program run by the American Institute of Aeronautics and Astronautics (AIAA). According to the institute's website, the competition allows student teams to design, fabricate and demonstrate the flight capabilities of an unmanned, electric-powered, radio-controlled aircraft which must meet a specific mission profile. Handling qualities and practical, affordable design are also part of a team's score.
The season culminated last month in Tucson, Arizona, at the AIAA's annual competition, where the team placed seventh in the international contest. Students had to build aircraft with collapsible wings that could take off from a short runway (simulating an aircraft carrier) and drop nerf balls (symbolizing bombs).
Brian, who hopes to one day design spacecraft, sought engineering experience. He came upon the MIT team's website, and reached out to see the lab. That led to a spot with the squad and Brian became the first non-MIT student to spend an entire season on the team.
His success is no surprise to mentor Dr. Thaya Paramanathan, an assistant professor of physics.
"I have trained multiple graduate students and undergraduate students in the past and I would rank Brian's enthusiasm and interest toward research and learning as the best I have ever seen," Paramanathan said. "His patience and perseverance showed up clearly, along with the skill to tackle complex situations."
Brian is part of a group of BSU students
believed to be the first undergraduates to build dual-beam optical tweezers
, a device that uses lasers to trap and manipulate microscopic items such as DNA molecules.
He credits BSU with providing him an academic foundation and a true understanding of the importance of community.
"It armed me with the confidence to know I can succeed anywhere."
Having graduated this month, Brian leaves behind advice for students.
"Don't be scared to take chances and go explore new things," he said. "Even if you think you might not have what it takes, go explore and find out for yourself."
Do you have a BSU story you'd like to share? Email stories@bridgew.edu.