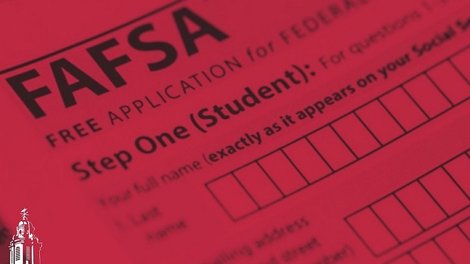 Story Series
News Feature
Filling out FAFSA forms can be daunting, but students and alumni who have undergone the application process, say it doesn't have to be all that bad.
Bridgewater State University returning and incoming students have until March 1 to complete their FAFSA, or Free Application for Federal Student Aid, for the 2019-2020 academic year in order to be eligible for the greatest potential funding.
Chelsea Coffey, '15, and Amanda Langley, '17, said the best place to start when applying for FAFSA is BSU's financial aid office.
"I was the first child in my family to go to college, so me and my parents had no prior experience with the FAFSA. We found certain questions to be confusing, so we called the financial aid office for help," Coffey said.
As a student Langley ran into circumstances that required her to supply additional documents after her FAFSA had already been processed.
"The (financial aid) office was great at communicating what was required of me. My counselor and the whole staff could not have been more supportive throughout the entire process. I probably would have had to withdraw from the university if it wasn't for their continuous support and assistance," Langley said.
This year marked the first time Bailey Cormier, '22, applied for FAFSA.
After receiving her acceptance letter from Bridgewater, Bailey's family reached out to the financial aid office for additional help.
"There were a lot of confusing terms," Bailey said.
To better understand the process, her family asked a lot of questions.
"I never felt like I was stupid for asking questions," she said. "Do not be afraid to ask questions. It's O.K. to not understand it. It's really validating to be understood when it comes to money and education."
Ramon Luis Montes, '20, faced an unusual and major roadblock when it came time to apply for FAFSA. Due to a glitch, his social security number was somehow switched with his twin brother.
"This error was not an easy fix and we spent months trying to resolve it," he said.
To fix the problem, Ramon reached out to the BSU financial aid office.
"(They) were incredibly kind and patient with our situation," Ramon said.
Whether it's a major obstacle or just trying to understand the information, those who have gone through it all agree asking for help is key in completing the FAFSA application correctly.
"Reach out to your school's financial aid office to seek out a representative," Ramon said. "The application may be difficult and overwhelming but with professional assistance you will feel more at ease." (Story by Heather Harris Michonski, University News and Video) 
Do you have a BSU story you'd like to share? Email stories@bridgew.edu