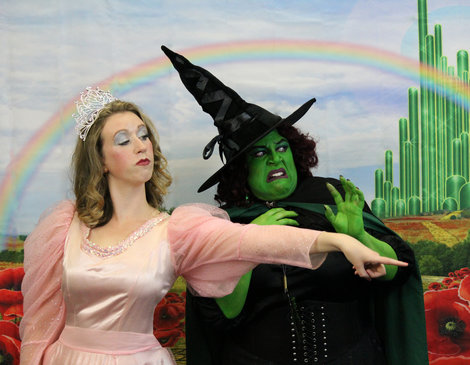 Story Series
News Feature
For children with autism, attending a theatrical production can be challenging. The special effects, loud music, or even a large crowd, can create sensory sensitivities.
This year, the award-winning Family Performing Arts Center (FPAC) at Bridgewater State University will offer a sensory-friendly performance of The Wizard of Oz on July 25 designed to create a welcoming experience for families with children who have autism or other disabilities.
"We're doing this performance in the same spirit that BSU offers the CPDC program (Children's Physical Developmental Clinic), or ICEI program (Inclusive Concurrent Enrollment Initiative)," said Matthew Greene, FPAC manager.
Accommodations for the July 25 show include:
Decreased sound level, especially for startling or loud sounds
Lights remaining at a low level
A reduction of strobe lighting or lighting focused on the audience
Designated quiet areas within the theater
Space throughout the theater for standing and movement
A story with pictures and personalization options showing information about the social situation of visiting a theater to communicate behavioral expectations and prepare for a new experience and environment
Fewer seats sold to allow patrons more room
"Live theater for families is important to everyone," Greene said. "This is a wonderful chance to experience the magic and fun that can only be found when actors perform right in front of you and a small army of technicians work behind the scenes to bring the world of the show to life."
FPAC staff members hope families will participate in what they promise will be a fun show and great bonding experience.
"Making our shows accessible for everyone to enjoy is important to us," Greene said.
The sensory-friendly show is scheduled for July 25 at 7 p.m., at BSU's Rondileau Campus Center Auditorium, 19 Park Ave., Bridgewater.
Tickets can be purchased at www.BSUtix.com.  Traditional performances are also scheduled July 19-21 and July 26-28.
Do you have a BSU story you'd like to share? Email stories@bridgew.edu