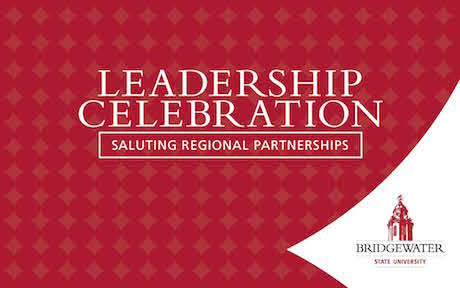 Story Series
News Feature
The Leadership Celebration was held Thursday night, bringing to campus hundreds of Bridgewater State University supporters and partners, as well as faculty, staff and state officials. It was a night to celebrate student success and the institution's partnerships with business and industry leaders from across the region.
One of the evening's speakers, Michael Hogan, president and CEO of A.D. Makepeace Company, seemed to sum up the night's primary theme when he said: "One of the bright engines for economic prosperity for all of us is Bridgewater State University. If you're not connected, you don't know what you're missing."
Previously known as the chairman's dinner, the Leadership Celebration was held in a packed East Campus Commons. The focus of the evening was on the Ricciardi College of Business and its programs and outreach initiatives.
Massachusetts Lt. Gov. Karyn Polito provided opening remarks. This was her third visit to campus over the past three weeks. She connected the state's ranking as the number one place to live in America (according to U.S. News & World Report) and the important role education – and by extension, institutions like BSU – plays in this achievement.
"You are doing profound things that are working, and I'm encouraging you," she told the audience.
The lieutenant governor stressed the need to maintain a "robust pipeline" between state schools and the region's workforce. She cited several initiatives of the College of Business, such as the trading room, Bloomberg Terminal lab, JetBlue and Cape Air "job-path" partnerships, and paid internship program, as excellent contributors to the ranks of skilled workers in the commonwealth.
"The biggest asset that Massachusetts has…is our people," she said.
Lt. Gov. Polito received a round of applause when she said, "We need to make this whole experience, this whole idea of attaining a higher degree, affordable." She thanked President Frederick W. Clark Jr. for his leadership in partnering early on with Massasoit Community College to allow that school's students to transfer after two years to Bridgewater, earning a degree at a much-reduced cost.
She also highlighted the efforts and investments she and Gov. Charlie Baker have put toward K-12 education.
In his remarks, Mr. Hogan also highlighted the need for a pipeline from institutions like BSU to the region's workforce, especially with tens of thousands of Baby Boomers set to retire. As chairman of the Ricciardi College of Business Advisory Board he urged others to join.
"Let us know what your needs are…so we can connect you to that pipeline," he said.
President Clark focused his time at the podium on the paid internship program. 
"We want to be the public version of Northeastern University," he said, referring to the Boston-based institution's famous co-op program. "Tonight's dinner is a big step" toward that goal, the president said.
He then introduced a new endowed paid internship funded by the John Joseph Moakley Charitable Foundation (see separate story).
College of Business Dean Elmore Alexander talked about several initiatives that are making a difference for students, specifically the Bloomberg Terminal Lab and the two investment funds, equaling $100,000 each, that are managed by students.
These "make the classroom far more meaningful and gets the students across the finish line" when it comes to getting a job after graduation, he said.
The emcees for much of the evening were Dr. Brenda Molife, vice president of University Advancement, and Trustees Chairman Eugene J. Durgin Jr. Foundation Chairman Thomas Caron closed the event by summing up a good deal of what had been said throughout the event.
"I think tonight we have shown that Bridgewater State is not a university that rests on its laurels," he said. "BSU continues to progress in exciting ways." (Story by John Winters, G '11, University News & Media)