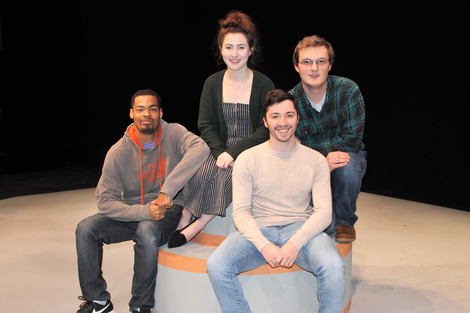 Story Series
News Feature
Excellent theater often takes place when the audience can relate to the characters onstage. With Bridgewater State University's Department of Theatre's new production, some attendees will literally see themselves portrayed on stage.
Word for Word features student-written pieces of documentary theater based on interviews with more than two dozen people. It explores suicide, family gatherings and technology.
"It's really interesting because it's a reflection of real people's words," said Alyssa Germaine, '19, of Attleboro. "There will be people in the audience who have said the words in the script. Part of theater is a reflection of the human condition. This is one of the most accurate ways you can do that."
Alyssa and Michael Eckenreiter, Charles Hill, Dylan Crowley and Skye Corbin wrote the play for Lisa Rafferty's Lab Theatre class. BSU students – including some of the writers – will perform Word for Word Nov. 29 through Dec. 2 in the Rondileau Campus Center.
Their first piece, Removing the Mask, explores suicide and depression. The playwrights see it partly as a way to erase the stigma around those topics.
"I think it's affected just about everyone," Dylan, '19, who is from Whitman, said of the opening play's theme. 
The production takes a lighter, comedic turn with Growing Up Stories, which features tales of holiday traditions.
"We figure everyone has some funny, embarrassing story from the holidays," Alyssa said.
Screenshot highlights the relationships between technology and humanity. Technology can, for example, connect people battling a rare disease with each other in ways that might otherwise be impossible.
"In addition to developing these kinships and community, we talk about trepidation with the Internet – why it's important to be careful about what you share," said Michael, '19, of Fairhaven.
The young playwrights said developing the work from scratch was an incredible learning experience that will help them in their future careers. Many want to work in the theater. Charles, '19, of Boston, hopes to teach the craft to students.
In addition to interviews, students used social media posts in developing their scripts, Charles said.
"It was a chance to use the distinct voices of the people that make up our community and other communities and unite it under a theme," said Dylan. "It's a collection of the human experience or humanity's moments." 
More information and tickets are available at BSUtix.com. Tickets will also be sold at the door.
Photo caption: Student playwrights Charles Hill, left, Alyssa Germaine, Michael Eckenreiter and Dylan Crowley