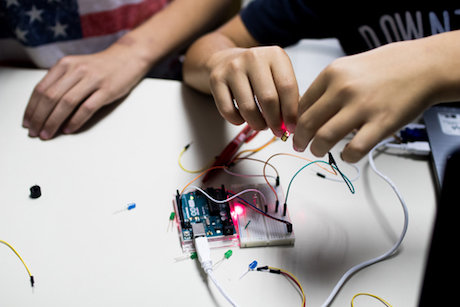 Story Series
News Feature
Do you need to develop a model using a 3-D printer or complete soldering for an electronics project?
A new makerspace under development on campus could be just what you're looking for. 
A makerspace provides access to specialized equipment that people probably don't have at home, but that could make it easier for them to put their creative juices to work.
"The idea is to allow students, faculty, staff and the community at large to have a location on campus where they can do project-based learning," said Robert Monteith, analytical instrumentation engineer at BSU.
The initiative is funded by an $80,000 Bridgewater State grant for academic innovation. In addition to the new makerspace itself, organizers will expand access to existing facilities, including a wind tunnel and a machine shop that features woodworking and other tools.
These developments comes as professors seek to challenge students to solve problems and learn by doing. And, makerspaces are becoming more common, said Susan Savill, a part-time physics faculty member working with Mr. Monteith and others on developing BSU's makerspace.
While some details are still evolving, organizers hope to create the BSU makerspace in a centralized location and potentially launch it over the summer. Trained student employees will work at the facility, which will include 3-D printers, soldering stations and a CNC machine that can cut materials such as aluminum and wood. It will also provide space for people to collaborate with each other on projects.
A makerspace could, for example, be used to create a device that helps track the feeding pattern of mice, Mr. Monteith said.
"It's engineering, science and art all intertwined in this idea of hands-on learning," said Ms. Savill.
Mr. Monteith added: "It's taking theoretical education and making it practical." (Story and 3D printer photo by Brian Benson, University News)