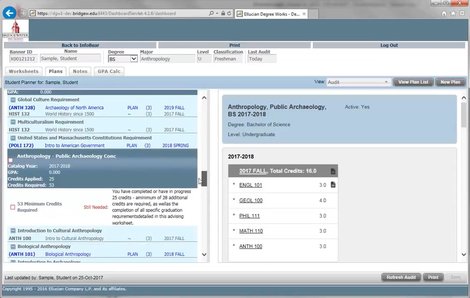 Story Series
News Feature
A new web-based tool seeks to help students map their educational future at BSU.
DegreeWorks Planner offers students a visual map of their education. Students can use the tool to determine what they need to take each semester. It provides a structured plan, as well as an opportunity to make changes along the path to graduation. Students can click and drag classes to different semesters and assess how to best add back in courses they'd dropped.
Freshmen are already using this new tool; upperclassmen and graduate students will be onboard beginning March 9.
 Students have historically used paper plans.
"The problem with that is the piece of paper gets lost," said Dr. Rita Miller, dean of undergraduate studies. "What's good about the planner is this creates an electronic plan for the students."
 It allows students to spend more time with their advisers on conversations about internships and future education and career paths.
"It gets them out of the transactional stuff and into more substantive conversations about how students can really use their college education," said Dr. Miller.
Administrators hope the planner will eventually help them track what courses students need to take and when they expect to take them. That information would aid in determining course schedules for upcoming semesters.
DegreeWorks Planner is part of a broader DegreeWorks suite of applications that includes preexisting tools such as the What-If feature. It allows students to experiment with changing a major, minor or concentration and see how the move will affect their progress toward graduation. GPA calculators help students figure out how they need to perform to meet their academic goals.
Filling out the planner is not a substitute for registering for classes. And, students still need to meet with their adviser before registering.
"We're excited about it," Dr. Miller said of the planner. "It really will help empower them to be in charge of their own education and figure out what they need to do to graduate."
To access the DegreeWorks Planner, students should go to InfoBear, login as a student and select DegreeWorks to get to their degree audit. Then, select the plans tab.
Bridgewater State has also updated the DegreeWorks website with guides for using DegreeWorks Planner. (Story by Brian Benson, University News)