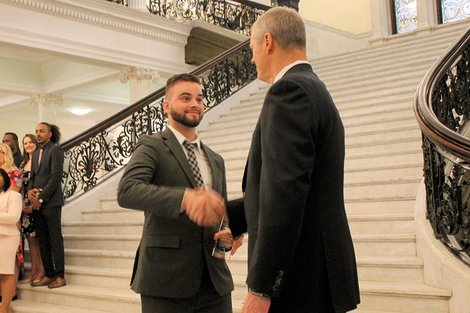 I didn't know what I wanted to do before I came here. Now, I'm set for post-graduation in terms of employment, and it's all a product of what I learned here.
Daniel Moriarty, '19, on his time at BSU
Story Series
Meet the Graduates
When
Daniel Moriarty
, '19, received a vague request to meet with
President
Frederick W. Clark Jr.
, '83, he wondered if he was in trouble. That couldn't have been further from the truth.
He actually learned he is Bridgewater State University's 2019 representative to the Massachusetts Department of Higher Education's 29 Who Shine. Gov. Charlie Baker honored Daniel and students from all state public higher education institutions at a statehouse ceremony Friday.
"I was humbled by it," said Daniel, a political science major minoring in sustainability innovation and outreach. "It's a real honor, especially given that I'm not in honors or really that involved on campus in the traditional ways you expect to be recognized." 
But Daniel credits BSU for sparking his passion for improving local agriculture in the face of climate change. Through Bridgewater's Adrian Tinsley Program for Undergraduate Research and Creative Scholarship, he studied ways farmers can use the internet, renewable energy, robotics and other technologies to improve business, respond to climate change and reduce their environmental impact.
"It's very important that communities proactively become food secure on their own terms, so the purpose of my research was to look at how communities can best do that with a focus on Massachusetts," said Daniel, who is from Dartmouth.
As an undergraduate, he helped launch FarmThrift, an online farmers market delivery service, and started content writing. He completed internships with Water Hero, which developed technology to protect buildings from water leaks, as well as the Office of Jeremy Rifkin. Rifkin advises European Union leadership and writes about the effects of scientific and technological change on the environment and society.
"Danny represents the best of BSU in that he has taken full advantage of everything we offer here at the institution to transform student lives," said Dr. Jenny Shanahan, who nominated him for 29 Who Shine.
He will use innovation to move Massachusetts forward and change the world, according to Shanahan, BSU's assistant provost for high-impact practices.
"He's one of those young people of the current generation in college who takes quite seriously this idea that climate change is our most significant crisis and that people need to make significant changes," she said.
Daniel, who praised supportive faculty such as Drs. Ryan LaBrozzi, Inkyoung Kim and Rachel Navarre, will continue his entrepreneurial activities and learn new skills in carpentry, electrical work, and sustainable agriculture – all to help farmers and the planet.
"I didn't know what I wanted to do before I came here," he said. "Now, I'm set for post-graduation in terms of employment, and it's all a product of what I learned here."
Do you have a BSU story you'd like to share? Email stories@bridgew.edu  .