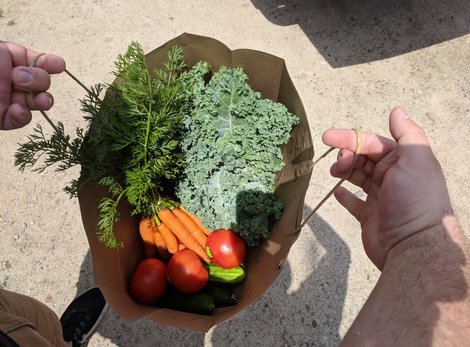 Story Series
News Feature
Daniel Moriarty, '19, is aiming to bring agriculture into the 21st century.
"I don't have time to go to farmers markets and a lot of people don't," said the Bridgewater State University student. "There's got to be an easier way to get food from farms."    
To that end, Daniel has developed a new online farmers market connecting Southeastern Massachusetts growers to customers in Bridgewater and the New Bedford area. The service, called FarmThrift, is part of the GotChew app. Users can purchase an array of fresh produce, seafood, baked goods and even artwork. Daniel then delivers their purchases to customers' homes, even if that's a BSU residence hall.
Daniel, of Dartmouth, and longtime friend Nick Caswell, a student at the University of Massachusetts Dartmouth, came up with the idea for FarmThrift in the summer of 2017. They are beta-testing the business currently, ramping up to a full launch next summer.
Daniel, who is majoring in political science and minoring in sustainability innovation and outreach, is thankful for the support he's received on and off campus. He learned the ins and outs of starting a business from EforAll, which runs business-accelerator programming. Meanwhile, he researched how renewable energy and the internet can help farms through a BSU-based Adrian Tinsley Program for Undergraduate Research and Creative Scholarship grant.
"The faculty here have been super supportive and helpful, both with academics and the business," said Daniel, who learned about food production through his coursework.
Farmers, especially young ones, are receptive to listing their products on FarmThrift. There's no cost to them, since the business makes its profit on deliveries, said Daniel.  
While he's excited to see this service take off, Daniel also has bigger plans. He hopes to help farmers use technology to make localized food production more successful while also reducing their environmental footprint. Farms could, for example, adapt renewable energy to power the tools necessary for indoor agriculture during the winter, and use technology to monitor irrigation and reduce unnecessary watering. 
For now, though, he hopes FarmThrift expands local farms' customer bases – at the same time giving him his first post-collegiate job. 
"If I can graduate and be self-employed with this, then it's definitely worth it," he said. "It's worth it because everything is learning. I've definitely learned a lot about how business works."
People can access FarmThrift by downloading the GotChew app from the Apple or Android app stores. Bridgewater deliveries take place on Saturday afternoons.