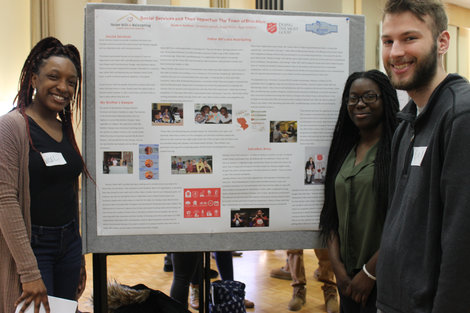 Story Series
News Feature
Countless Americans can tell you exactly where they were when they learned terrorists had attacked the United States on Sept. 11, 2001. Maddie Elliott, '22, is among the young Americans who have no memories of a day forever etched into the minds of so many.
 
"We're the first generation that has it taught in school to us. It's part of the history of America," said Maddie, who is from Foxboro and was a baby in 2001.
 
That education continues at Bridgewater State University, where English Instructor Melissa Santos, '08, G'12, challenged Maddie and her classmates to explore the attacks' aftermath through the lens of song.
 
Maddie and Anissa Bukuras, '22, (pictured at right) who are both taking Santos' Social Consciousness of Music course, presented at BSU's Mid-Year Symposium separate projects that examined music after 9/11.
 
"I think music can be so powerful and it can make people come together in times of distress and devastation, and it can just spread such meaningful love and hope," Anissa said.
They were among hundreds of students from across the university who on Monday showcased posters and gave oral presentations. 
Gedeline Joseph
, '21,
Angel Wilder
, '21, and
Ryan Robbins
, '20, (pictured above) went beyond just researching their topic. They experienced first-hand how nonprofits assist people in Brockton as part of Assistant Professor Jibril Solomon's Introduction to Social Welfare course. They spent time at Father Bill's and MainSpring, a local shelter; the Salvation Army; and My Brother's Keeper. Each student volunteered at one of the organizations, as part of the requirements for the social work course. 
"It was very touching," Angel, who is from Boston, said of helping others. 
D'Ana Spears
, '20, an environmental geosciences major from Somerville, studied carbon sequestration for Dr. John Kucich's and Ronald Maribett's sustainability course. Carbon sequestration is a way to remove the greenhouse gas carbon dioxide from the atmosphere.  
"I think it's very important because climate change is very real," said D'Ana, who hopes to continue researching the topic. 
The benefits of presenting at the Mid-Year Symposium are tangible, even for freshmen. Participating first-year students are more likely to continue their BSU education and feel more confident in their studies and more connected to campus. 
The symposium helped Maddie and Anissa hone their public speaking skills as they explained how artists such as Bruce Springsteen and the Beastie Boys responded to the Sept. 11th attacks. Post-9/11 music expressed political views and helped people cope, they said. 
"Research is important," said Anissa, a communication sciences and disorders major from Mansfield. "You learn something new every day." (Photos by Benson and Bailey Cormier, '22, University News & Video) 
Do you have a BSU story you'd like to share? Email stories@bridgew.edu.