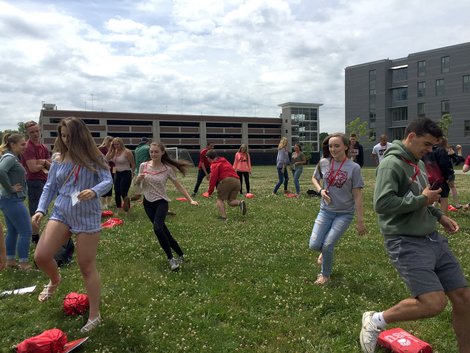 Story Series
News Feature
As more than 1,400 new Bears will arrive on campus this month for first-year orientation, dozens of smiling students are excited to show them the ins-and-outs of college life and become their friends at their new home.
Bridgewater State University's 2018 orientation relies on the help of 56 students, who serve as orientation leaders, student orientation coordinators and members of the logistics team
Their job is to guide incoming freshmen through the two-day program where students spend a night in a BSU dorm, play icebreaker games with their orientation leaders and learn about academics, campus safety, residence life, being a commuter student, and all that BSU has to offer. Additionally, they partake in wellness programs such as hiking, yoga and coloring. 
BSU also holds orientation programs for families and transfer students.
Six orientation leaders recently discussed how BSU has changed them, shared what they hope students learn from orientation, and offered advice for freshmen.
Amanda Rossignoll, '19, majoring in elementary education/special education dual licensure and English, from Peabody
HER STORY: In high school, Amanda was shy, a trait that carried over when she first came to campus. But, joining organizations such as Gamma Phi Beta and becoming a leader has helped her change.
"It's definitely made me break out of my comfort zone. … Walking around campus, I see so many people I know. It's made me who I am."
ORIENTATION TAKE-AWAY: "I hope they enjoy every second of orientation and every second of college. … I want them to soak everything in."
ADVICE FOR FRESHMEN: "Take a deep breath, sit back and enjoy the process because the four years fly by."
Sophie Scrimgeour, '21, majoring in special education (teacher of students with severe disabilities concentration) and psychology, from Milford:
HER STORY: Sophie was devoted in high school to working with students with disabilities through the Best Buddies and Special Olympics programs. Now, Sophie, who has Asperger Syndrome, continues to follow her passion. One day, she hopes to run a group home that helps people transition from high school to adulthood.
Sophie praised the Disability Resources Office for easing her concerns about college and her freshman year roommates for being people she could lean on in times of need. 
ORIENTATION TAKE-AWAY: "You get to learn new resources and come out of it knowing someone the first day (of freshman year) so you're not alone. We're putting you on a path to succeed."
ADVICE FOR FRESHMEN: "The first three weeks are going to be the hardest, but the journey is worth it."
Mouctar Diakite, '20, majoring in psychology with a business management minor, from Boston:
HIS STORY: Mouctar transferred from UMass Dartmouth to Bridgewater last fall. He commuted last school year, but becoming involved introduced him to his fellow students. Next school year, he is living on campus as he will be a resident assistant working with freshmen in Shea Hall and Durgin Hall.
ORIENTATION TAKE-AWAY: "Just be themselves the way they were in this orientation. They were really excited. They're eager to learn things about campus."
ADVICE FOR FRESHMEN: "Not to procrastinate … If you wait one week, the next thing you know you're overwhelmed." 
Jake Dee-Hastings, '21, majoring in management (human resources management concentration), from Falmouth
HIS STORY: Jake battled anxiety and depression in high school and finished his secondary education studies online. Then, he found BSU and immediately fell in love with the campus. He lived in Shea-Durgin, where people kept their dorm room doors open and were eager to meet someone new. An on-campus job in University Events introduced him to many facets of BSU.
"I came here and everything changed. It was like I wasn't the person I was in high school anymore."
ORIENTATION TAKE-AWAY: "When you come to Bridgewater, you're part of the Bridgewater family." 
ADVICE FOR FRESHMEN: Get involved, whether through playing sports, being an orientation leader, working an on-campus job or the multitude of other ways.
Alexis Monteiro, '20, majoring in mathematics and biology, from Praia, on the island of Santiago, Cape Verde 
HIS STORY: Alexis is following in the footsteps of his brother in pursuing higher education at Bridgewater State. He was at first a little shy about going to classes since English is not his native language. But, supportive faculty, staff and peers helped him adjust to college life and feel comfortable at school. He joined organizations such as the Cape Verdean Student Association.
"Everyone is friendly and they understand English is not your first language. They want to learn your culture. They want to learn about where you come from."
ORIENTATION TAKE-AWAY: "I hope they learn to have fun during their college experience. Enjoy it. Be yourself and also be willing to sacrifice for success."
ADVICE FOR FRESHMEN: "Take advantage of the resources." The Writing Studio and academic coaching helped Alexis.
Tom Gentile, '19, majoring in philosophy with a criminal justice minor, from Billerica
HIS STORY: Tom acknowledged he struggled to apply himself in high school and didn't really care. He credits BSU, which was the only school that accepted him, with changing his attitude about education.
"I gained confidence from the school to actually put myself out there and apply myself in classes because I was actually interested. … It's made me realize how much potential I have."
ORIENTATION TAKE-AWAY AND ADVICE FOR FRESHMEN: "I hope they take away the fact that they're welcome here and, in a sense, they belong here. No one should ever feel like they are an outcast or alone. … We're all here for them." (Photos by Brian Benson, University News)