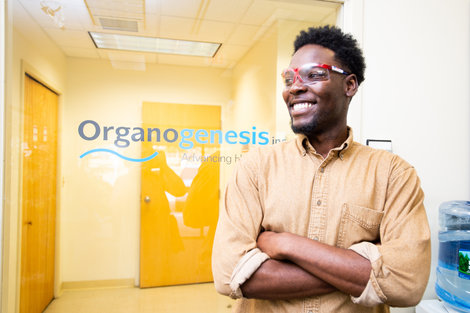 Story Series
News Feature
Claudio "Claude" Eshun, '19, could have easily given up. But instead, he chose a different path.
Take, for instance, Claudio's early struggles in the classroom. He scored a 56 on his first test in high school AP biology. Yet by the end of the course, he'd pulled his grade up to a B-plus, passed the AP exam, and is now studying biology at Bridgewater State University.
Just attending BSU is a feat of perseverance in itself: Claudio, whose family is from Ghana, has two younger siblings, and his mother is a single parent who works at Walmart. 
Not wanting to burden his family with the cost of his education, Claudio worked at an Asian restaurant and as a home health aide. He rented an off-campus room in Bridgewater to save money and commuted to Worcester for work.
"I felt like all I was doing was paying the bills," he recalled. "I was not getting the full college experience…I was thinking of leaving the institution. I felt like it was just too much."
He shared his story with President Frederick W. Clark Jr. and, in a response emblematic of this university, a group of Bears helped a fellow Bear stay in the game. Claudio earned an on-campus internship as a videographer, became a resident assistant and participated in undergraduate research. Thanks to financial assistance from Bridgewater donors, he completed a paid summer internship at a regenerative medicine company in Canton called Organogenesis Inc. 
"Throughout my life, I learned to do for myself," he said. "It's really strange to have a really strong support system behind you to bring out the best qualities for you."
Claudio is getting used to such support.
He found mentors everywhere, from faculty and staff such as Diane Bell, and Drs. Jenna Mendell, Deniz Zeynep Leuenberger and Samer Lone, to his fellow students. And, BSU helped him realize it's OK to be, as he puts it, goofy and awkward.
"Coming to Bridgewater, it was difficult adjusting," he said. "There weren't a lot of people who looked like me. I kind of stayed hidden. I was like a little fish in a big pond."
Without the help of people on campus, "I wouldn't be the individual, the student, the mentor that I am today," Claudio said. "I have more confidence in myself. I'm comfortable to look awkward. I like being an open book and Bridgewater helped me show that."
Now, he eases the transition for newcomers to campus. Claudio also hopes to increase diversity in various science fields, and is president of Inclusive Advancement of Multicultural Students in STEM, a BSU student organization that recently sent two dozen backpacks filled with school supplies to Ghana.
Claudio is an avid photographer and part of a group promoting solar panels, hoping to bring the technology to low-income neighborhoods to reduce the cost of electricity. 
No matter what he does, Claudio follows the wisdom of philosopher René Descartes' famous phrase: "I think, therefore I am." 
To Claudio, that means: "I can do anything I put my mind to."